2023 Food and Beverage Forum
Date:

Thursday, Nov. 16, 2023
Time:

12:30 p.m. - 6 p.m. CST
Location:

Chicago Athletic Association | 12 S. Michigan Ave., Chicago, IL 60603
Come together with industry peers to unwrap fresh ideas for adapting to today's challenges. Register now to join us at the Chicago Athletic Association for the annual Food & Beverage Forum.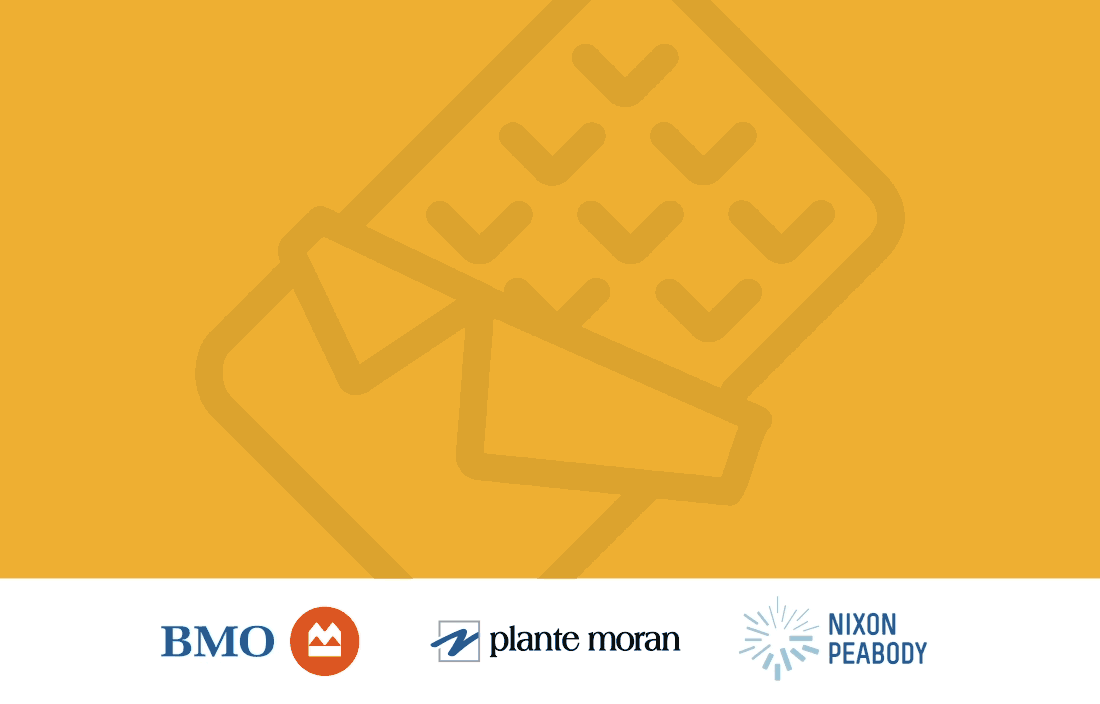 We're excited to invite you and a select group of your industry peers to the 2023 Food & Beverage Forum, hosted by Plante Moran, Nixon Peabody, and BMO. This year's event will once again be live and in person in Chicago, bringing experts, industry leaders — and you! — together to connect, reignite relationships, exchange ideas, and learn through collaboration.
Discover what's new, now, and next from leading food and beverage industry experts in sustainability, technology, and innovation at this year's forum.
As you explore the Food & Beverage Forum events page, please use the navigation guide to aid your journey:
Focus on the future, together
Find fresh perspectives and unwrap innovative ideas for navigating the food and beverage industry's future with other Chicagoland professionals. This event offers more than simple networking, although you can expect to make new personal connections — we're bringing you a uniquely interactive experience, with several opportunities (like our SIP sessions) to share your knowledge and learn from other attendees.
What are SIPs?
Get a taste of what your peers think about specific hot topics in our social interactive peer (SIP) sessions. SIPs are a new take on the networking session, with small group discussions led by experts on topics you've been eager to discuss, including: cost and margin intelligence, ESG, sustainability, private equity finance, economic deep dive, and cybersecurity. Your voice and perspective shape these conversations, and your takeaways will come from other business leaders' experiences.
Agenda
November 16 | 12:30 – 6:00 p.m. | Chicago Athletic Association
12:30 – 1:00 p.m. | Check-in
1:00 – 2:00 p.m. | Economic outlook

Hear an explanation of what's going on in the economy and what it means for the food and beverage industry from the extremely knowledgeable Michael Gregory, deputy chief economist and head of U.S. economics at BMO Capital Markets.

2:00 – 2:45 p.m. | Food for Thought: Innovative deep dives

Choose from three sessions in which industry experts peel back the layers of a complex hot topic. Session names forthcoming.


Annie Slabotsky, co-founder, GoNanas
Mitch Rader, CEO, Lighthouse Visibility Partners

2:45 – 3:00 p.m. | Break
3:00 – 3:45 p.m. | Campfire panel | M&A prep: Begin with the end in mind

Is a transaction part of your short- or long-term plans? In this session, we'll talk about laying the groundwork to become an attractive target, common pitfalls of readying for a transaction, and what it takes to get a deal across the finish line. Panelists include:

Joe Puglia, principal, Plante Moran
Isaac Figueras, partner, Nixon Peabody
John Siegler, managing director, BMO Capital Markets

4:00 – 4:45 p.m. | SIPs | 20-minute group discussions

SIPs Topic 1: Cybersecurity: Are you irresistible to hackers?

Jessica Whitman, principal, Plante Moran
Matt Babicz, senior manager, Plante Moran

SIPs Topic 2: Cost and margin intelligence: Earn more, spend less

Joe Puglia, principal, Plante Moran

SIPs Topic 3: ESG: What it is — and isn't

Alison Torbitt, partner, Nixon Peabody

SIPs Topic 4: Sustainability: Feeding the future

Janet Garetto, Partner, Nixon Peabody

SIPs Topic 5: Economic deep dive

Michael Gregory, CFA, managing director, deputy chief economist & head of U.S. economics, BMO Capital Markets

SIPs Topic 6: Private equity financing in food companies

Tara Cuprisin, managing director, BMO

4:45 – 6:00 p.m. | Networking, drinks, & appetizers
Register now