The office is evolving…and it's all about being social
New generations of socially minded, technology-savvy workers are shrinking the office footprint by knocking down cubicle walls and forgoing the corner office. And employers are seeing benefits in increased morale, talent retention, and lower real estate costs.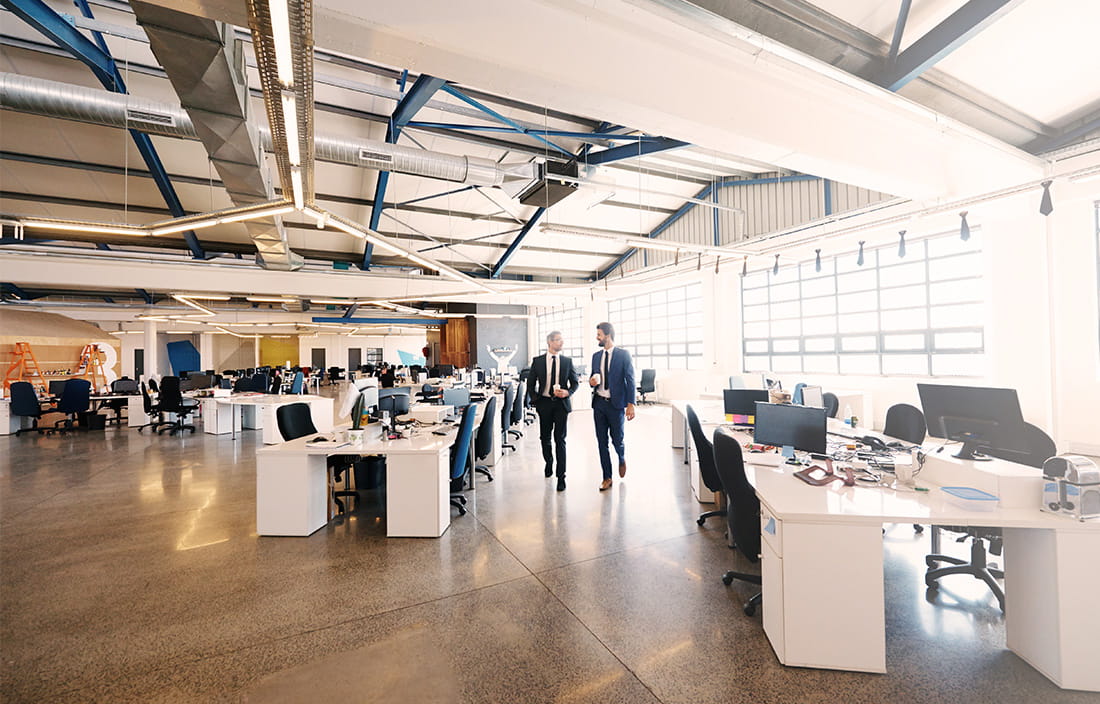 New generations of socially minded, technology-savvy workers are shrinking the office footprint by knocking down cubicle walls and forgoing the corner office. Why? To create a more open environment that fosters collaboration, inspires ideas, and increases productivity. And it's working — employers are seeing benefits in increased morale, talent retention, and lower real estate costs. This trend exists not only at the latest tech startups but also at long-established corporations in a wide variety of industries across the country.
How we work
While people work in a variety of ways, research has shown they generally have four distinct work modes:
Learned Work
Learning is about listening to others. Think of a classroom setting; learning happens by listening but becomes even more powerful when visual.
Focused Work
Focused work can easily be described as "heads down" work. Whether studying, strategizing, or contemplating, it's work best performed in a quiet zone.
Collaborative Work
Call it brainstorming, deep dives, think tanks, or teaming — it's the process by which two or more people work together to realize shared goals.
Socializing Work
Most innovation happens via informal settings. A more informal setting allows for a greater amount of socializing. When we socialize, we exchange information and build rapport with one other
It's within these different states that staff can fully express their creativity and innovation. The caveat — it's imperative that an office space design considers each of them.
Factors driving this trend
While work has been performed in these ways throughout the ages, we see the value in collaborating today more than ever before. Individually focused work is becoming less and less frequent and, in reality, something of the past. There are two factors driving this trend: technology and Generation Y.Technology is a key component in creating a successful, innovative, collaborative environment. If you look back 20 or more years, our tools tied us to a desk or cubical via corded phones, typewriters, and bulky computers. In 2012, staff are free to work from any location. Advances in technology have created a new work environment; you can be at a workstation, you can be in a meeting room, or you can be 1,000 miles from the office and still be collaborative with colleagues.
And then there's Generation Y. We can't forget that the workforce is comprised of multiple generations that work differently. We're seeing a generational shift in today's workforce, and leading the charge is the very social Generation Y. The Millennials, as they're also known, are helping accelerate this change in attitude toward more informal spaces and more collaborative zones. The traditional office model does not speak to them the same way it did to the independent Baby Boomers. Generation Y's preference is a flexible work environment that allows them to work out of the office, multitask, socialize, and work in teams. To account for this, private offices are still important, but they're becoming smaller and located well away from the corner window.
Space planning consideration
Although the business world realizes the importance of collaboration, most companies lack the actual structure that allows people to team up and work together. The solution lies in rethinking office design, but in order to foster success, there must be a clear vision and a keen understanding of who you are and where you want to go as a company. Carving out more "meeting" rooms, adding a coffee bar, or adding lounge seating may theoretically afford you collaborative space, but oftentimes a cultural change is needed to put that space to work the way you envision. Without a strategy, you're not going to encourage innovation; in fact, you may do the opposite.
The office of the future
This trend toward collaborative, open spaces is not going away. In fact, this is just the beginning. Imagine an office where nobody has an assigned seat — much like a hotel, you reserve your "space" online the night before or as you walk into work in the morning. Staff use lockers to store their personal belongings each day and secure file cabinets for their work product. There's an increase in "benching," where individuals work along each side of a long table, and private offices are located away from windows and are often shared. Meeting rooms will be in abundance as will be private "call booths." It may seem extreme by today's standards, but it forces people to interact and problem solve — and what organization can argue the benefits of that?
It's all about being social
Collaboration and innovation are crucial to a business's growth. As workers look toward teaming more and more, the workplace can either support or limit their abilities. Even as we become increasingly dependent upon technology, our workplace becomes the home base that ties us to one another. We're social by nature and require interaction with others. Technology may make us mobile, but we still need a place — a hub — to come back to for socializing, connecting, and collaborating with coworkers.
Space planning done right
Want to read about a company that's been successful in designing space to promote collaboration? Check out our profile of Quicken Loans, or check out photos of its unique space at bedrockmgt.com.