Mexico continues to create new opportunities for plastics suppliers
Mexico continues to create new opportunities for plastics suppliers.
We continue to see growth in end markets such as transportation, electronics, medicaldevice and equipment, construction and agriculture, and appliance as OEMs in thesemarkets invest in new manufacturing facilities in Mexico. The long-term impact on plasticsprocessors located in the U.S. or Canada (but not in Mexico) is still unfolding. So far,this does not appear to be an insurmountable threat to plastics processors as OEMs inseveral industries continue to operate facilities in the U.S. and Canada who value havingsuppliers within a reasonable distance to their facilities. Similarly, for plastics processorsin Mexico, we mostly see them supplying their growing number of customers' facilities inMexico with only a limited amount of plastics being produced in Mexico for immediateexportation by the processor.
— Ted Morgan, Plante Moran plastics practice co-leader
What's driving OEMS to Mexico
Improved workforce
Government-sponsored workforce development programs to improveskills relevant to manufacturing.
Stabilized energy costs
Energy reform policies have increased the ease of developing neededinfrastructure, stabilizing and reducing costs.
Competitive state incentives
Mexican states offer a variety of economic and tax incentives forcompanies making long-term investments in Mexico (and creatingindustrial jobs).
Favorable export agreements
The Mexican government has negotiated free trade agreements with42 countries, cultivating an environment that encourages exports andsets the stage for significant growth outside of North America.
Industry case study: Automotive growth in Mexico
The North American auto industry is coming off a record year. In 2015, over 17.9 millionvehicles were produced, and this number is expected to grow to over 19 million by 2021according to IHS.
While the U.S. is projected to be the largest producer of vehicles in the foreseeable future,Mexico is projected to have the fastest growth over the 2010-2020 time period, with vehicleproduction being more than double that of Canada by 2019 with four million units.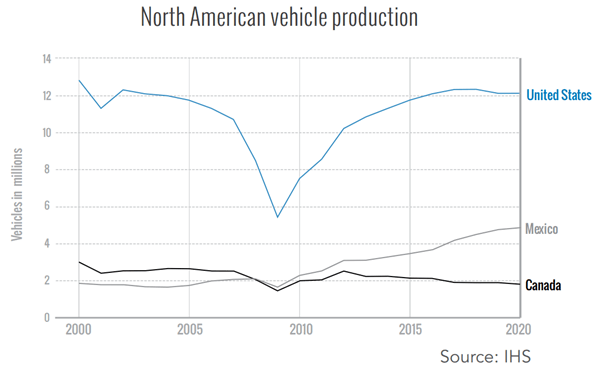 Through 2020, total value of investments will exceed $20B among 12 different OEMs (primarily to Mexico's Central region).
... with vehicle productionbeing more than double thanthat of Canada by 2019 withfour million units.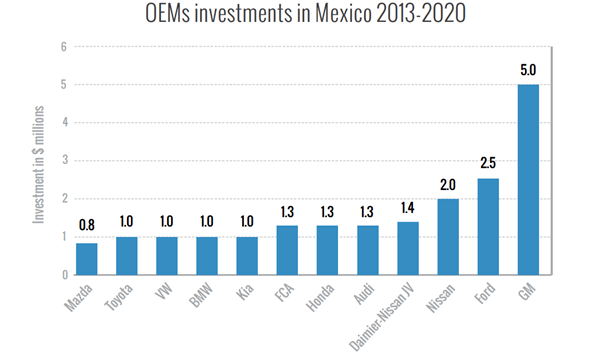 41,000 new jobs projected tobe created for the region atOEM facilities.
Challenges in Mexico's growing market
While Mexico offers ample opportunity, there are several challenges that need to beaddressed by those doing business there.
Development of local management
Attracting and cultivating management for Mexican operations hasbeen problematic as candidates possessing the necessary skillsets arein high demand.
High turnover of hourly workers
Competitive demand for labor leads to attrition rates for companies notoffering attractive wage and fringe benefit packages.
Developing supply chain
Tier 2 and other downstream suppliers are slow to set up operations,causing many to import the required tooling, raw materials, andcomponents for production.
Financing difficulty
Obtaining capital is a large obstacle for smaller domestic andinternational manufacturers (mostly tier 2 and 3 suppliers) to fundMexican operations.