GDP remains strong; eyes turn to the second half of 2017.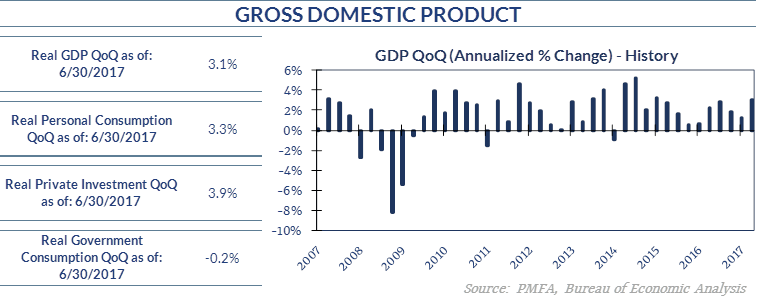 The economy grew at an appreciably faster pace in the second quarter after a lackluster six months spanning from late 2016 and early 2017. Revised data released today indicates that it grew ever so slightly faster than the prior release indicated – at a 3.1% annualized pace vs. the 3.0% previously reported.
Strength in Q2 GDP was mainly attributable to increases in personal consumption expenditures and nonresidential investment. Increased federal defense spending helped to alleviate a modest drag from the public sector.
While the data released today provides some additional detail and clarity about the state of the economy earlier this year, it's really a non-story, as economists and markets have already turned their eyes to the current quarter and beyond.
The destruction caused by Hurricanes Harvey and Irma and the resulting disruption in the economy across the impacted region are expected to be a drag on Q3 growth, but it remains to be seen how significant or prolonged the impact will be felt. Nonetheless, the economy remains on track and even picked up the pace, which is the good news. Having said that, it will take more than one quarter of growth exceeding 3% to conclude that a stronger growth trajectory can be sustained, particularly in the absence of any meaningful fiscal stimulus as the Fed continues to gradually withdraw monetary support.
The bottom line is that there's nothing in today's report that moves the needle in terms of the big picture.