Three powerhouse technologies — advanced data analytics, machine learning, and robotic process automation — can help organizations of all sizes derive greater value from their IT investments. Read how companies are putting them to work.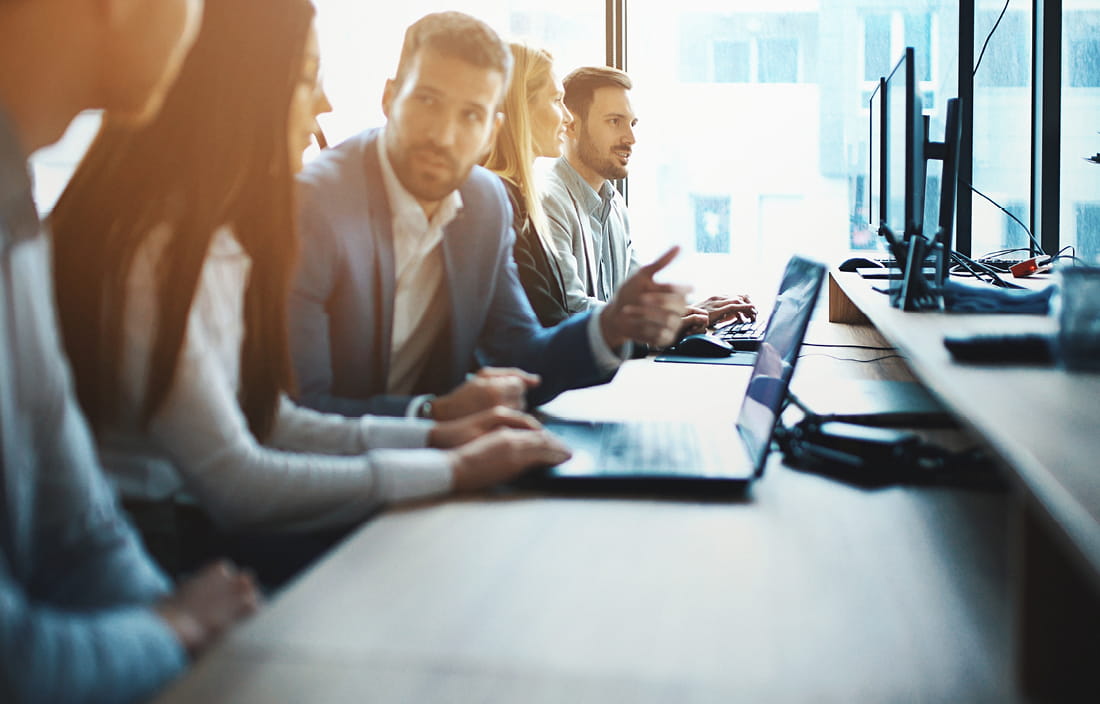 As an organization, you've made the right moves — you've developed and executed your IT plan and upgraded your ERP, EAM, and CRM systems to improve efficiencies and gain new insights. You're starting to see results, but these new systems are generating vast amounts of data you aren't always sure what to make of — or staff now have to enter data into multiple systems to get the information you need. Like many organizations, perhaps you find yourself looking at nicer versions of the same old reports.
Like many organizations, perhaps you find yourself looking at nicer versions of the same old reports.
Sound familiar? To derive greater value from the investments you've recently made or to use them more strategically to outpace competitors, consider three technologies that, while not new, are gaining maturity and traction in the marketplace. Lower costs, ease of use, and quickly- deployable subscription- and cloud-based options bring these powerhouses within reach of almost any organization. Consider making one or more a part of your digital business strategy.
Dig deeper with data analytics
We're all familiar with descriptive analytics. Think spreadsheets and pivot tables that slice and dice existing data but lack additional intelligence behind them. Enter today's advanced analytics tools. These enable you to pull in data, including "live" data from both internal sources — say, customer service, sales, marketing, finance, or operations — and external sources, such as publicly available databases. The software runs advanced analyses using artificial intelligence (AI) in the form of rules-based models.
Results help organizations identify and better visualize actionable connections between data points and trends you might not otherwise discern. And, all areas of an organization can benefit from the strategic and operational insights advanced analytics offer, from the C-suite to the back office to the shop floor. We're seeing clients use advanced analytics to:
Inform and refine strategic plans by comparing company performance indicators against industry benchmarks and trends.
Improve sales and revenue forecasting by identifying seasonal trends, new markets, and new sales opportunities.
Understand specific drivers of recent sales declines or growth, overall and within particular markets.
Improve real estate planning by using internal and external data sources to select optimal locations for new facilities.
Anticipate OEM production changes before new releases drop to improve demand forecasting.
Extend analytics with machine learning
Machine learning takes data analytics and its rules-based engine to a whole new level. While it also uses a rules-based framework, it learns from the rules and refines them over time.
While data analytics helps you find what you know you're looking for, we're seeing that machine learning is most applicable when you aren't sure what types of relationships might emerge from your data. It goes beyond textbook business and accounting ratios and can help you identify correlations and metrics specific to your organization that can lead to new degrees of insight.
Machine learning goes beyond textbook business and accounting ratios and can help you identify correlations and metrics specific to your organization.
As the name implies, machine learning software "learns" to identify relationships in data, or in text, and subsequently uses what it's learned to answer questions or solve problems. We're seeing clients use machine learning to:
Review financial ledgers and identify correlations between and among data points. Organizations can then investigate further to discern whether causation exists.
Further delve into the correlation between sales trends and industry data to better understand the external events that lead to an organization's success.
Perform or improve preventive maintenance by using advanced analytics and machine learning with an EAM application to develop maintenance and repair schedules that best minimize downtime and disruption.
Improve efficiency of contracts review by training software to read and summarize key contract provisions. Over time, even if the wording of particular provisions differs, the software learns to recognize and identify the intent.
Detect fraud by examining transactional-level financial data to reveal anomalies and uncover additional risk areas that traditional internal auditing might miss. Exposing those key controls vulnerabilities means you now can address them.
Ramp up an organization's cybersecurity arsenal by detecting server and other online activities that point to intrusion or data theft.
Gain new efficiencies with robotic process automation
Building on the concept of business process automation, robotic process automation (RPA) is a key enabler of advanced data analytics and machine learning. Think of it like a souped-up macro that records a series of key strokes, creates an automated workflow, and carries out that workflow using the same user interface your employees do.
We're seeing clients across industries — healthcare, manufacturing, government, and customer service, as just a few examples — use RPA to create efficiencies in organizations with heavy reporting requirements, multiple data sources, and/or a mix of legacy and modern systems. With RPA, these organizations are transferring data much like a user would, but with greater speed and accuracy and at lower cost.
You don't have to be Amazon…
Whether used individually or in combination, these three technologies can boost competitiveness, efficiency, and innovation. Don't be intimidated. Options exist for creating shared services models or internal user groups to assist business groups within an organization. That's the beauty of all three — you don't have to be an Amazon or Zappos to deploy them and reap the benefits.