Little Caesars Arena installs record-breaking display system
While the Detroit Red Wings are no strangers to breaking records in the NHL, the new installation of the seamless center-hung scoreboard system has brought a new world record to their home at the Little Caesars Arena.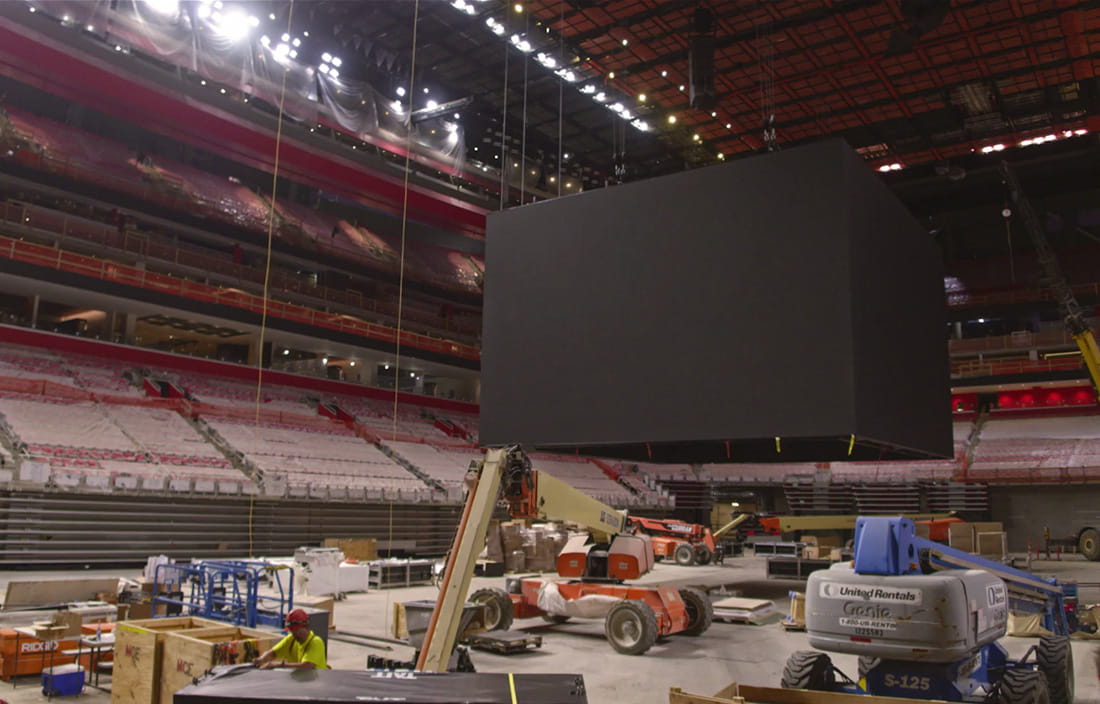 The new Little Caesars Arena made records with the installation of the largest seamless center-hung scoreboard system in the world, measuring 5,100 square feet. The 360-degree display will allow fans in any seat to have a high-definition view of the action on the floor.
While this scoreboard system is the main attraction, there are also more 20 additional interior displays and 15 exterior displays being installed. When the arena is completed in September, it will have a total of 13,500 square feet of display screens — that's more than 163.5 million LEDs — installed in and around the area.
Learn more about the innovative displays on The District Detroit website:
About The District Detroit and Little Caesars Arena
The District Detroit is one of the largest sports and entertainment developments in the country. Located in the heart of Detroit, this 50-block, mixed-use development led by the Ilitch organization unites six world-class theaters, five neighborhoods, and three professional sports venues in one vibrant, walkable destination for people who want to live, work, and play in an exciting urban environment. The Little Caesars Arena, the cornerstone of The District Detroit, will be home to the Detroit Red Wings, Detroit Pistons, and other sports and entertainment events, concerts, family shows, and community functions.
About Plante Moran Cresa
As program managers for the Little Caesars Arena construction, our team at Plante Moran Cresa assists with construction program management. In addition, we are helping Olympia Development of Michigan, Detroit-based full-service real estate company founded by the Ilitch family, develop and execute a real estate strategy that brings the most unique blend of local and national retailers and office users to The District Detroit.