As wage growth gains momentum, many are wondering if inflation will follow suit.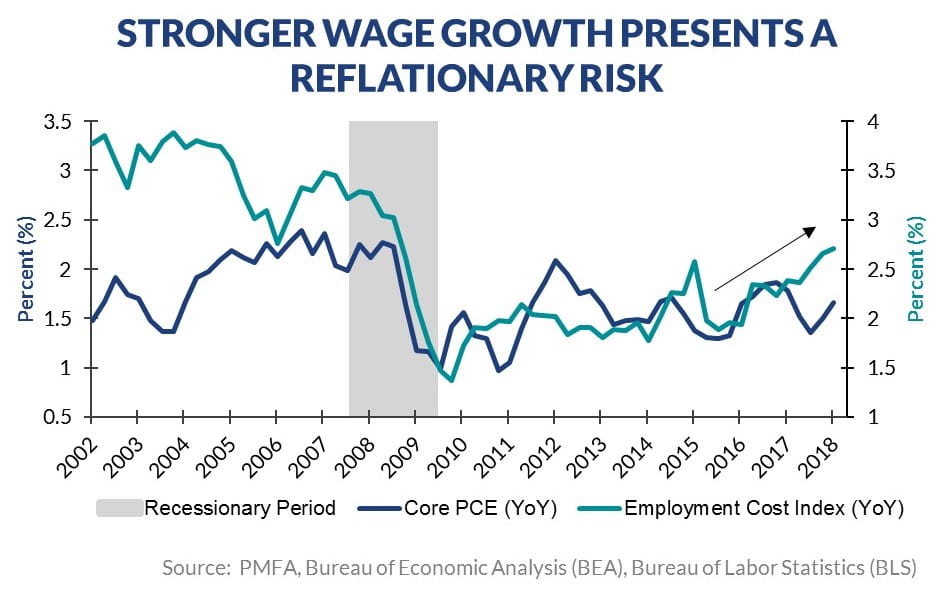 Despite an increasingly tight labor market over the last few years, wage growth has remained frustratingly low – until recently. With initial jobless claims near a 50-year low and the unemployment rate at a 17-year low, the employment cost index has been creeping upward – reaching its highest point since the financial crisis, as the competition for skilled labor has heated up and employers have been forced to ante up to attract and retain talent. Accelerating wage growth, particularly in the absence of corresponding productivity gains, tend to coincide with rising inflation, as the production of goods and delivery of services become more expensive and businesses pass those costs along to consumers.

If the recent trend in wage growth continues as expected, it will be important to keep an eye on the Fed's preferred inflation measure, core PCE, which has been trending upward since mid-2017. While inflation expectations remain well anchored at this point, persistent tightening in labor market conditions and accelerating wage gains, if they persist, could prompt growing inflation concerns and spur the Fed to take a more aggressive stance in tightening policy.