With small business optimism near record highs and jobless claims near record lows, some may question whether this trend can continue. We believe it can, for now.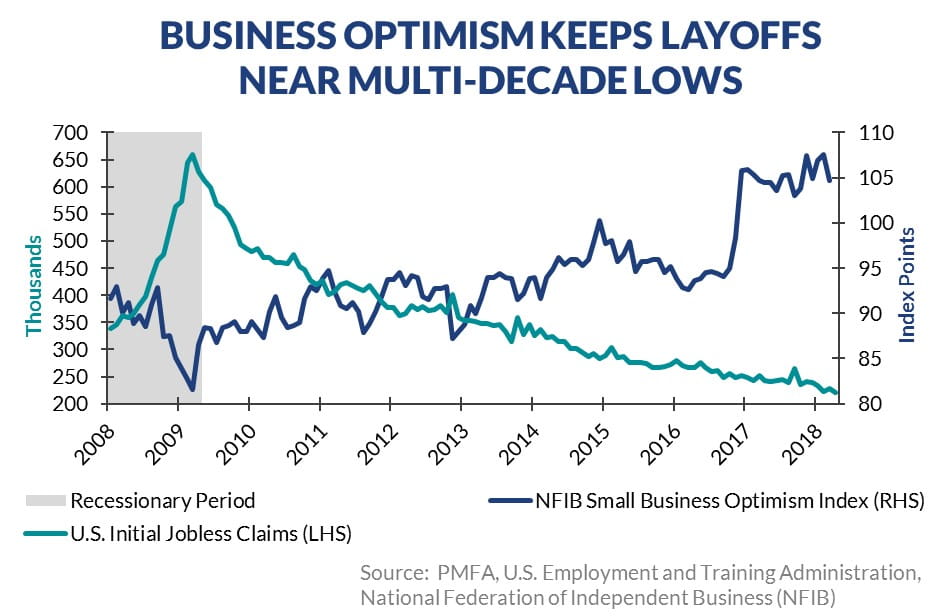 Initial jobless claims, one strong barometer for the health of the jobs market, reached its lowest point in fifty years in mid-April. The indicator counts the number of people filing for first-time unemployment benefits, and has been trending steadily downward since peaking during the financial crisis.
Meanwhile, improving business conditions, a friendlier regulatory environment, and corporate tax reform have boosted small business optimism, as the NFIB Small Business Optimism Index has held near its all-time high for 17 consecutive months. Furthermore, a majority of respondents noted intentions to increase capital spending and hire new workers in the coming months – the latter of which is becoming more difficult due to an increasing mismatch in required skills and qualified candidates.

Together, tight labor market conditions and growing hiring needs point to the potential for stronger wage growth ahead, as employers seek to attract and retain talent. This would be a positive for workers and the consumer sector, as rising income fuels increased spending and ultimately stronger economic growth. At the same time, it could present a hurdle to corporate profit growth and productivity. Still, business optimism and favorable labor market conditions provide evidence of the strength of the economy today, and suggest limited risk in the near term.