It has proven difficult for active strategies to outpace their index counterparts over the last several years, but this trend may be shifting.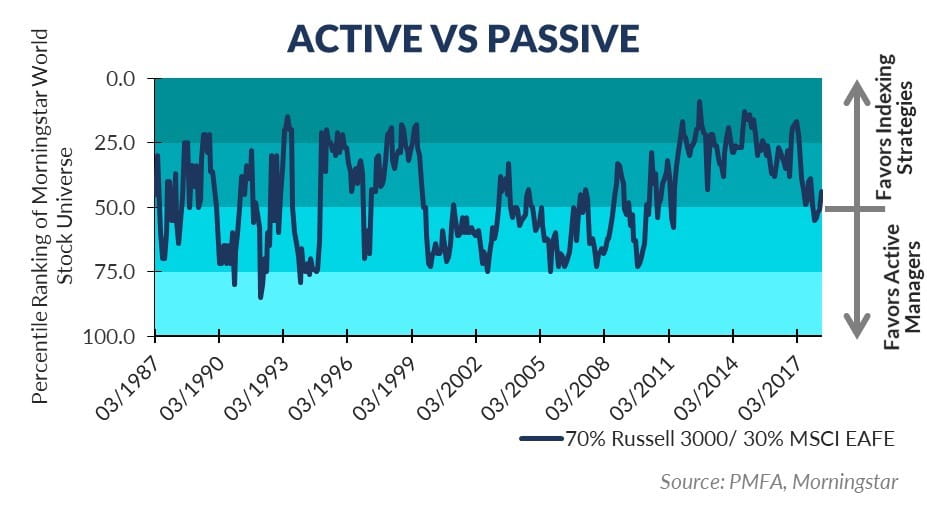 Active management has fallen out of favor in recent years as even managers with outstanding long-term results had struggled to outperform passive "index" funds. In fact, the index has ranked near or above the top quartile of funds within the Morningstar World Stock Universe for much of the last six years. Needless to say, it was a challenging environment for active managers to add value in excess of their fees, but that trend may be shifting. The historical relationship between active and passive management has been cyclical over time – with both experiencing extended periods of outperformance. More recently, an increased disparity between winners and losers and reduced security correlations across equities is creating opportunities for skilled stock pickers. Active managers are finding opportunities, and may finally have their time to shine.

We continue to see merits to both active and passive management, and typically recommend a combination of both. Passive strategies consistently deliver predictable market-like returns at a low cost and in a tax-efficient manner. Conversely, high quality active managers can add value over and above an index, despite higher costs. We continue to emphasize active strategies in asset classes that have proven to be less efficient over time, and where managers with strong, consistent track records have demonstrated the ability to add value after accounting for fees, tax costs, and risk.