High equity valuations may tempt some investors to pull out of the market and wait for more attractive prices. History shows that to be costly – and typically a mistake.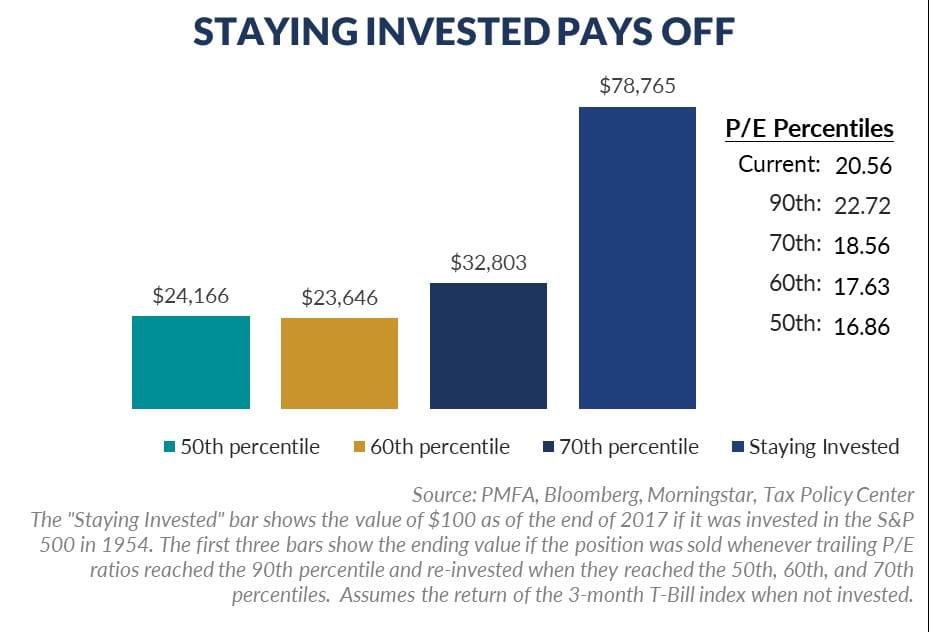 History has shown that valuations are typically a good predictor of long-term returns. When valuations are low, forward-looking returns tend to be higher; when valuations are high, the opposite is true. As a result, investors may question whether "selling high" and waiting for a more attractive buying opportunity is a winning strategy. However, valuations have proven to be a poor timing indicator, as stocks can remain expensive for extended periods of time before reverting to normal. An investor who sells out with the intent of buying back in when stocks are cheaper may end up missing out on positive returns – sometimes even for several years.

The chart above shows the ending value of a $100 investment in the S&P 500 beginning in 1954. The first three bars show the ending value if the position was sold whenever valuations reached the 90th percentile (most expensive), and reinvested when they fell back to the 50th, 60th, and 70th percentiles, respectively. The last bar shows the ending value of a portfolio that remained invested throughout the entire period. Due to higher tax costs along with missing dividends and periods of strong performance, investors that pulled out of the market when valuations were high would have significantly underperformed a portfolio that remained invested the entire time.

The bottom line is that market timing can be a costly endeavor, and one that has been shown time after time to be impossible to do consistently and successfully. Rebalancing, on the other hand, is strongly recommended to enforce the sell high/buy low strategy, while maintaining a disciplined approach to portfolio management. Over the long term, investors are better served to stay invested. The results are clear.