While the U.S. Aggregate Bond Index is commonly used as a benchmark for core fixed income portfolios, there are reasons why looking different may be beneficial.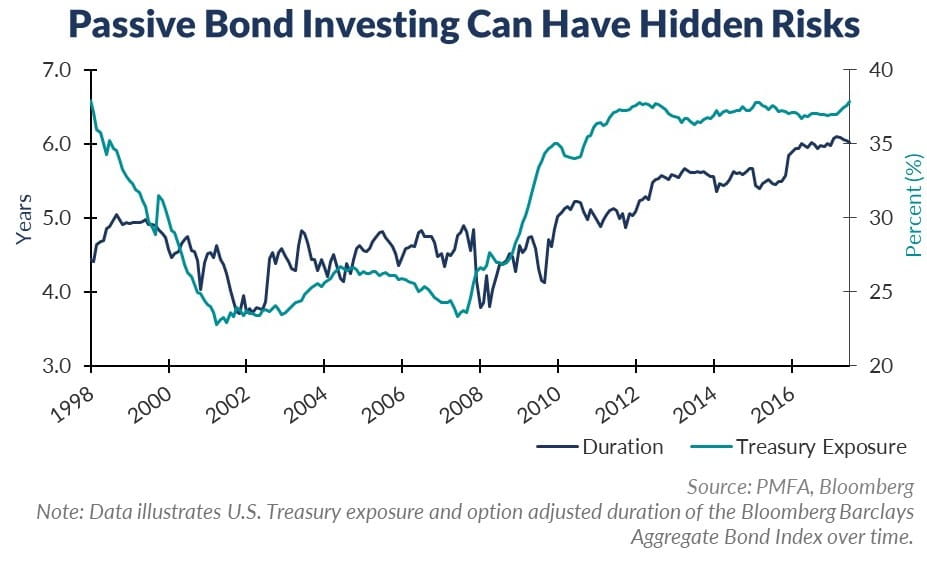 The Bloomberg Barclays U.S. Aggregate Index (Agg) is widely used as a reference point and benchmark for taxable core U.S. fixed income portfolios. As a result, some investors may consider using passively managed funds that track this index as part of their core fixed income portfolio. However, looking like the index may not be the best strategy for a core bond portfolio, as the characteristics of the index can change considerably over time, resulting in unfavorable risk/return characteristics that more flexible active managers can avoid.
The composition of the Agg has changed notably in recent years, as higher U.S. Treasury issuance has increased the weight of this segment of the market within the index. U.S. Treasuries now make up approximately 38% of the index, up from about 33% in 2008. This number is expected to continue to rise, as the higher budget deficits projected over the next few years are expected to increase Treasury issuance even further and the Federal Reserve's balance sheet reduction program will introduce more Treasuries available for investment back into the market. In fact, approximately 70% of the Index's constituent bonds are backed by the U.S. government between Treasuries, agencies and agency mortgage-backed securities. These bonds tend to be lower yielding and more rate sensitive than other fixed income securities, resulting in a lower average yield on the index. In addition, the index has become less diversified, with returns becoming more correlated with the performance of U.S. Treasuries.
In addition to higher Treasury exposure, the average duration of the index has steadily increased since the financial crisis, now at about 6 years compared to 3.8 years in December 2008 and an average of 4.9 years since 1988. In other words, interest rate risk is now at historical highs. While the Agg's longer duration benefitted index investors as rates fell, it will have the opposite effect as rates edge higher.
The bottom line is that at today's historically low yields, index investors are receiving less yield to take on more interest rate risk. Skilled active managers, on the other hand, can find more attractive opportunities in the market that offer better risk/return characteristics.