While analyst earnings forecasts have typically started out high and fallen over time, the story this year has been very different.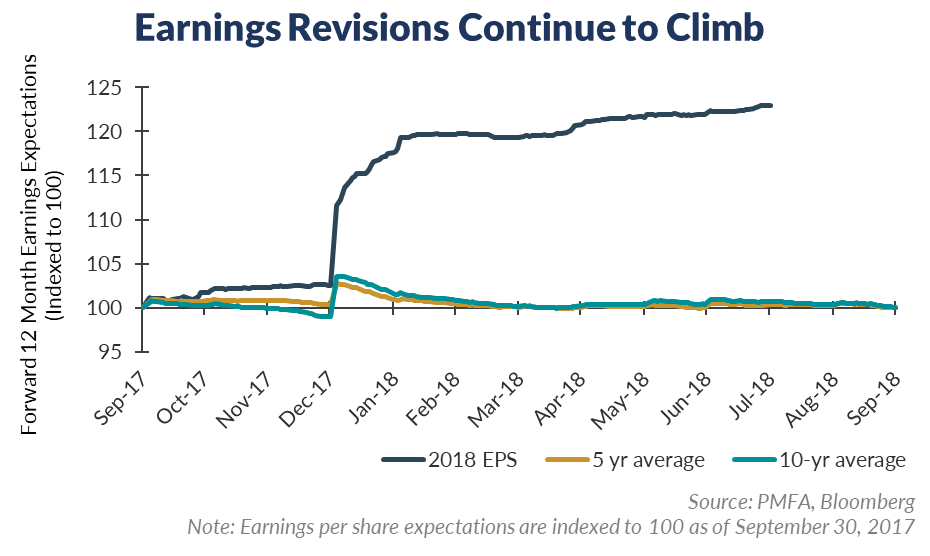 It's been a phenomenal year thus far for corporate earnings in the U.S., which (along with solid economic data) has underpinned stocks despite tightening monetary policy and escalating trade tensions. The chart above shows 12-month forward earnings per share estimates for the S&P 500 for 2018 compared with two longer-term averages. Earnings per share expectations jumped significantly at the beginning of this year in anticipation that corporate tax reform would provide a further boost to earnings that were already supported by stronger economic growth. Since then, analysts have been slowly raising their earnings forecasts to catch up with this positive reality. Earnings per share expectations have continued to climb steadily, as strong economic data has continued to paint a positive picture for the next few quarters.

Coming out of the Global Financial Crisis, equity analysts established a predictable pattern of staking an optimistic earnings forecast early, then lowering their expectations over time sufficient for reporting companies to beat those reduced estimates. As illustrated by the comparison to the 5- and 10-year average lines above, 2018 clearly stands out. While the long-term averages point to analysts gradually lowering their earnings estimates over time, 2018 data illustrate continued robust growth and increasing expectations. It indicates that analysts are increasingly optimistic about earnings over the coming 12 months, and that actual results have been better than expected – a very different story than the dominant theme in recent years.