While stock prices continue to rise, strong earnings growth has actually caused equity valuations to fall over the past year.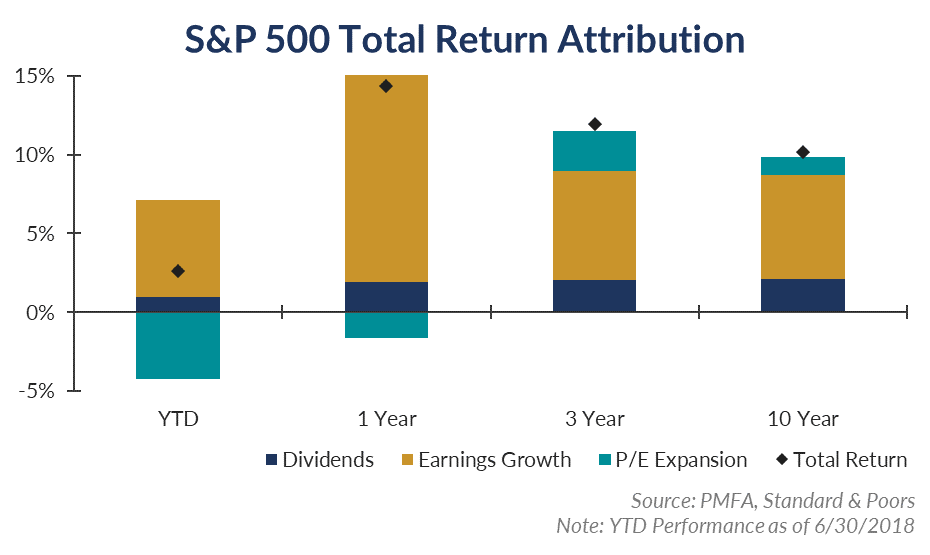 One of the most famous quotes from Benjamin Graham's seminal book Security Analysis is as true today as it was when it was published in 1934. "In the short run, the market is a voting machine but in the long run it is a weighing machine." Over short-term periods, equity markets are heavily influenced by investor sentiment, which is broadly reflected in the ebb and flow of price-to-earnings ratios and other measures of stock valuation. Over long-term periods, though, equity market returns are overwhelmingly driven by fundamentals, most notably earnings growth, with dividends also adding to total returns. Although changes in market valuations can have a tremendous impact on investor returns in the short run, they are of much more limited impact over the long term.

As the current equity bull market marches toward potentially becoming the longest on record, investors naturally may be wondering whether valuations are becoming too rich. The significant rise in equity prices in recent years had pushed valuations higher. In recent months, however, equity market returns have been muted despite strong earnings growth, allowing equity valuations to recede. As a result, stronger earnings growth in 2018 has largely validated the gains of 2017, and stocks have essentially "grown into" those higher average valuations. Today, stocks don't look as pricey as they did a year ago, despite positive returns.

As shown in the chart above, nearly all of the S&P's 14.4% return over the past year was attributable to earnings growth. Equity valuations, which had risen in 2017 in anticipation of stronger economic growth and corporate tax cuts, have actually decreased as earnings growth in recent quarters has outpaced market returns. Today, the outlook for earnings remains positive. Certainly, market volatility could re-emerge, but the bull market should have the legs to continue so long as the economy remains on track.