As trade issues continue to dominate headlines, it is important to maintain perspective on what it means to the economy and investor portfolios.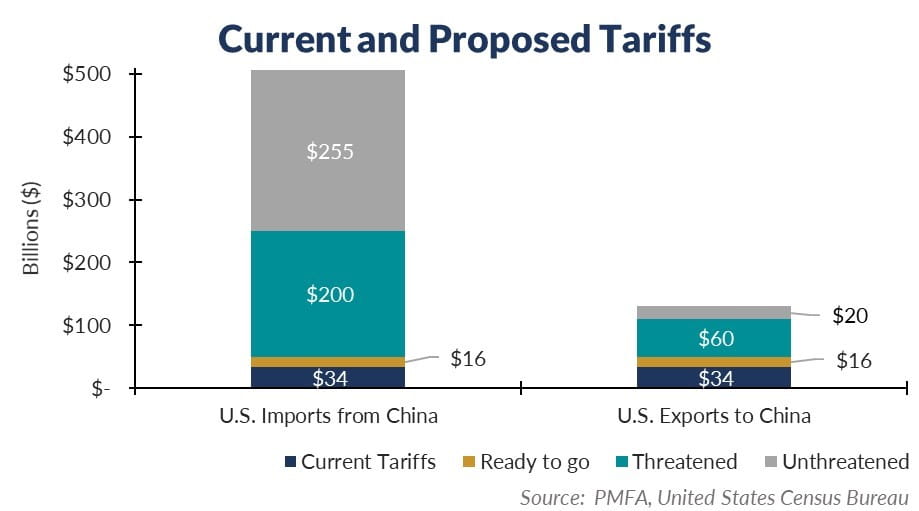 International trade and tariffs have been among the most dominant economic stories in recent months, as the Trump administration has turned up the heat on China and other trading partners of the U.S. The recent announcement of a new pact with Mexico was met with optimism by the markets, but a great deal of uncertainty persists, most notably in terms of trade relations with China. Investors may be wondering what these developments mean for their portfolios.
The chart above summarizes the estimated impact of both enacted and threatened tariffs. If fully enacted, the latter would affect nearly 50% of all U.S. imports from China, and virtually all U.S. exports to China. Still, it's important to keep that in perspective, as U.S. exports to China only represent about 1% of U.S. gross domestic product. However, the secondary effects could be meaningful if negative sentiment causes a pullback in consumption or investment. In addition, given the importance of the combined economies of China and the U.S., a policy error would likely have negative implications for the rest of the world as well.
For now, the consumer sector has largely shrugged off that risk, focusing instead on the overall strength of the economy and labor market conditions. The Conference Board's Consumer Confidence Index just reached its highest level since 2000, and the most recent report on GDP indicated that the economy grew at a brisk pace in the second quarter, with strong consumer spending playing a key role.
The end game related to trade relations and the ratcheting up of tariff talk remains a risk to the economy and a source of uncertainty for investors. It's possible that the market could experience further volatility as negotiations progress. Still, this represents a short-term source of uncertainty, and investors with a diversified portfolio should be well positioned to navigate any volatility that could result.