The fixed-income market environment of today calls for patience and prudence. Hear from PMFA Senior Fixed Income Analyst, Paul Olmsted, on the importance of balancing risk with the search for yield in your fixed-income portfolio.
For many investors, bonds serve as an important source of income and portfolio diversifier, providing a ballast to their portfolio when equities decline. In October, the volatility that emerged in equity markets was caused (at least in part) by rising interest rates, creating a brief period of modestly negative returns in bonds even as stock prices were falling. That changed in recent days, as equity market volatility drove a brief flight to quality and high-quality bonds proved beneficial.
Today, there is little that looks "cheap" across the capital markets, and bonds are no exception. Consequently, investors may feel stuck between a rock and a hard place in their search for income. Investing in long-term bonds certainly can enhance a portfolio's yield, but also exposes the investor to greater interest-rate risk, which is particularly distasteful in a rising rate environment. Investing in credit-oriented sectors can also enhance yield, but exposure to credit risk when the economy is decelerating and conditions are volatile can create a bumpy ride, while potentially reducing the diversification benefit of bonds at a time when it would be most beneficial.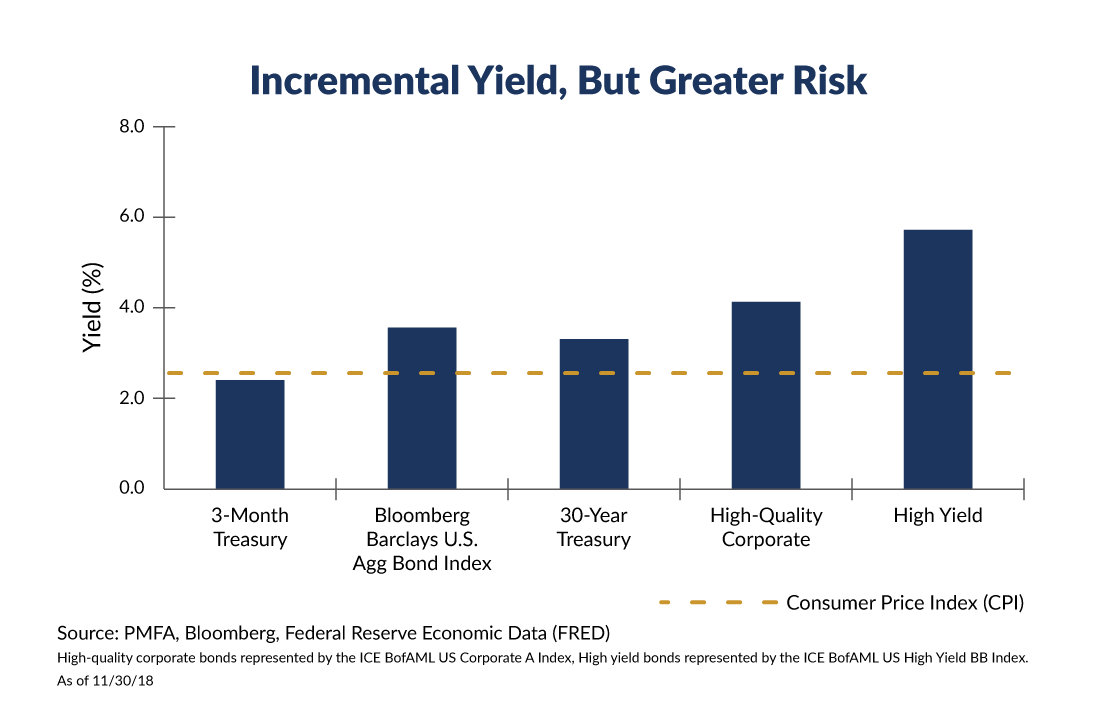 Against that backdrop, high-quality municipal bonds remain an attractive option for many taxable investors. Generally, municipals are less sensitive than taxable bonds to interest rate fluctuations. In addition, current tax-adjusted yields remain attractive relative to high-quality taxable bonds, further enhancing their attractiveness in the current environment.
Further, we believe the environment is conducive to active bond managers who are not beholden to closely mirroring a broad market benchmark. The flexibility to manage portfolio positioning and duration, to avoid those sectors and securities that don't present an attractive risk/return profile, to identify interesting opportunities, and make portfolio adjustments over the course of time are among the tools that managers can use to add value and navigate a challenging fixed-income environment.
Investors must balance a variety of considerations in structuring their bond portfolio. For most investors, bonds represent the portfolio "safety net". It may be tempting to reach for yield, but the old maxim holds true in this context: don't risk a lot for a little.
The bottom line:
Investing with quality active managers and tilting portfolios toward municipals remain effective ways to navigate the current bond market environment.