While 2018 has been a challenging year for global equities, fundamentals in the U.S. remain generally strong. Outside the U.S., a range of risks have weighed on international markets, but the long-term story there remains attractive. Hear PMFA Senior Equity Analyst, Eric Dahlberg, discuss global equity conditions.
In 2018, U.S. equity returns have been muted, and volatility has emerged from an extended period of dormancy. Although market conditions weren't that unusual from a historical perspective, they may have seemed challenging in the aftermath of the unusually calm markets of 2017.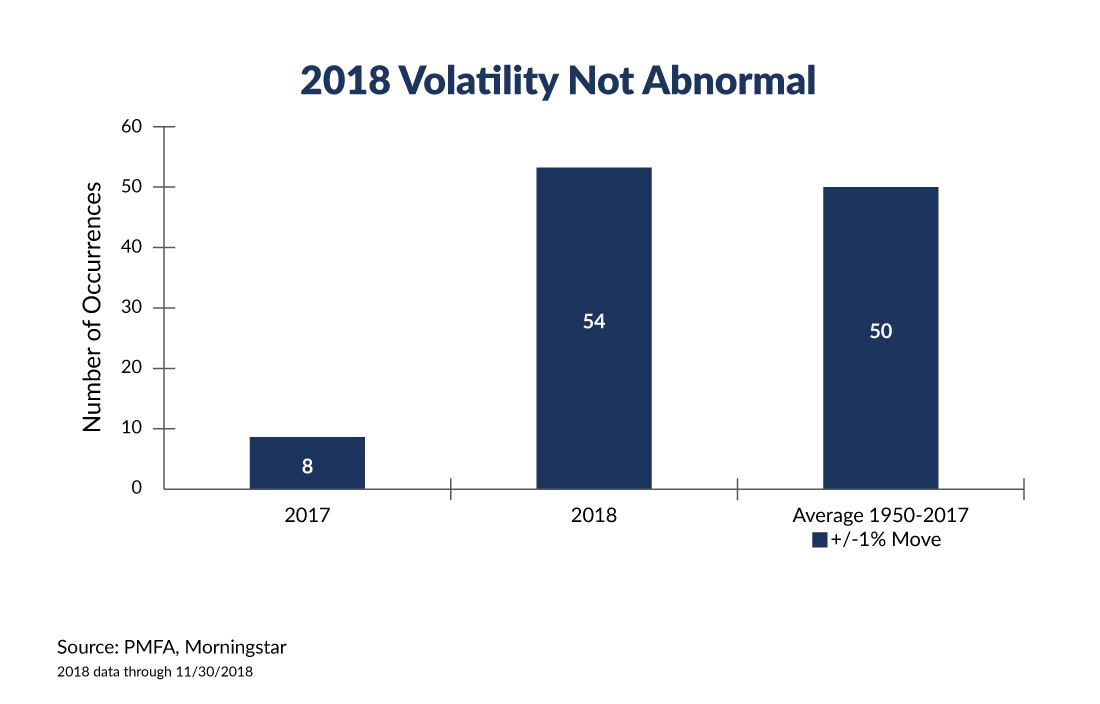 Despite a choppier equity market environment, underlying fundamentals remain relatively strong. Strong economic conditions and corporate tax cuts helped to boost corporate earnings growth by more than 20%. With returns weak, equity valuations improved and stocks look much more favorably priced than they did at this point last year. While we still wouldn't characterize equity markets as cheap, the 15% decline in the Price-to-Earnings (P/E) ratio for the Russell 3000 Index (measuring the broad U.S. equity market) and a nearly 30% decline in the P/E ratio of the small-cap index illustrate that some of the froth has come out of the market in the past 12 months.
Looking ahead, we believe that fundamentals should remain largely supportive of equities, but volatility is also likely to remain elevated. First, there's no ignoring the aging of the expansion and cyclical equity bull market or the direction of interest rates and Fed policy. While most expect economic growth to continue through 2019, the equity bull market is well into its ninth year. As we've seen in recent weeks, even an expected slowdown in growth can unnerve investors at times. Given these late-cycle dynamics, investors should be prepared for periodic bouts of increased market volatility as the pace of growth moderates.
Against that backdrop, corporate earnings growth is also expected to moderate to a single-digit pace next year, as the tailwind provided the stimulative effects of corporate and individual tax reform and robust growth earlier in 2018 begins to fade.
The story has been somewhat different for international equities, which went from leaders in 2017 to laggards in 2018. A variety of economic, geopolitical, currency, and trade risks created a challenging environment across both developed and emerging markets. Growth ebbed in Japan and Europe over the course of 2018. Emerging markets continue to expand at a stronger pace than developed markets but have seemingly settled into a growth range of 4-5%, with the deceleration in China to an estimated 6.6% for 2018 playing a significant role.
Despite these near-term headwinds, we believe that the long-term value in international equities remains attractive. As with U.S. equities, valuations in international markets have also declined sharply in the past year. The P/E ratio for the MSCI EAFE index decreased by more than 20% in the past year. Today, developed market equities trade at a sizable discount to both their long-term average and relative to the U.S., while also paying an attractive dividend. We acknowledge the near-term sources of uncertainty but still believe that the outlook for international equities remains attractive for long-term investors.
Boil it all down, and you have a tug-of-war in the equity markets between valuations, fundamentals, divergent monetary and fiscal policy, geopolitical risks, and lingering uncertainty around global trade. Those various forces, and the uncertainty around each, are likely to create periodic bouts of volatility for investors. Investors should use those opportunities to rebalance their portfolios, harvest tax losses, or engage in tax swaps to side step avoidable capital gain distributions when practical. Despite the risk, we believe that a continuation of the expansion in the U.S. in particular and reasonable valuations should prove supportive of equities, which still appear poised to provide solid returns that should exceed those of cash and high-quality bonds over a multiyear time frame.
The bottom line:
Economic fundamentals and better valuations support U.S. equity returns, but periodic bouts of volatility should be expected. Although near-term risks also exist for international equities, the longer-term opportunity remains compelling.