The economy is currently on track to experience the longest expansion in U.S. history if growth continues into the summer of 2019. Hear from PMFA Senior Strategy Analyst, Tricia Newcomb, on areas of ongoing strength as well as potential risks to watch out for.
The economy accelerated in early 2018, boosted by the stimulative effects of individual income tax cuts. Growth likely peaked mid-year, but tariff-related distortions in inventories, imports, and exports numbers muddied GDP numbers for Q2 and Q3. Despite indications that the economy slowed in the latter half, the economy appears poised to grow by about 3% for 2018.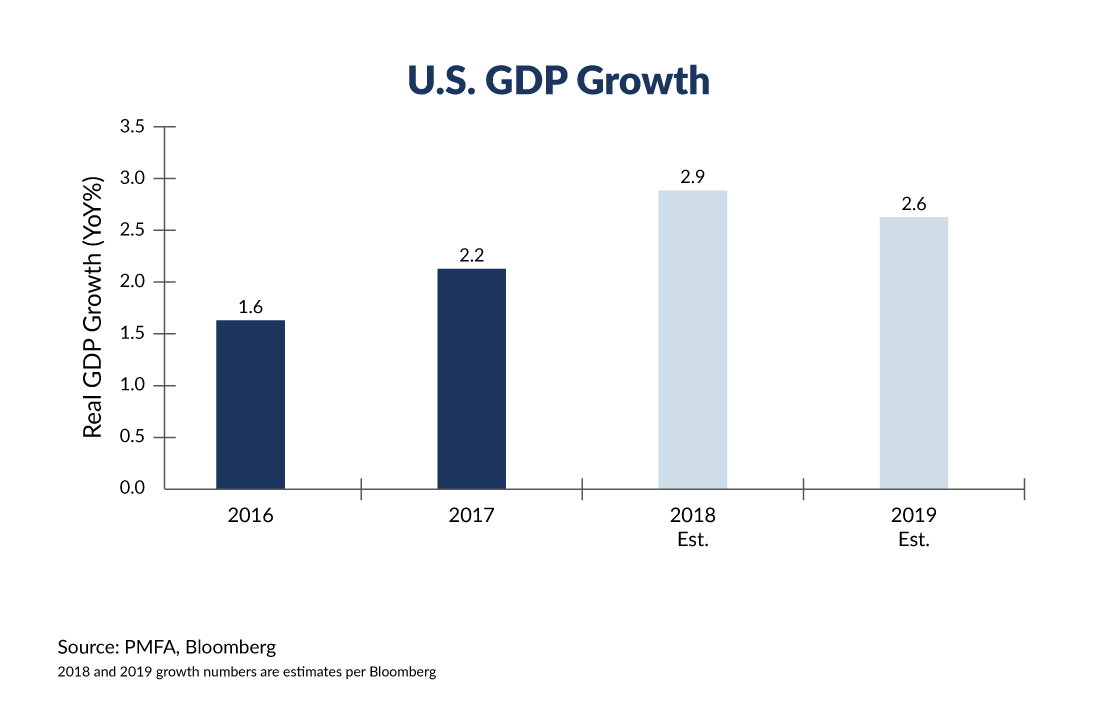 Looking to 2019, growth is projected to moderate to about 2.6%, but that would still exceed economist estimates for the longer-term trend. Now in its 10th year, the expansion is poised to become the longest in U.S. history if growth persists into the summer. Given the general strength on a number of fronts, that appears likely.
While a slowdown is apparent, most data on the economy is still positive, including:
Purchasing manager indexes for both the services and manufacturing sectors remain solidly in expansionary territory.
Employment conditions remain solid, with the unemployment rate down to 3.7%, job creation still surprisingly robust, and wage growth showing signs of picking up.
A highly confident consumer sector is supported by low unemployment, job creation, and rising income.
Despite edging higher in recent years, inflation is still around 2%, and inflation expectations remain well in check.
Clearly, there are risks, which include:
The recent slowdown in the housing sector, as rising interest rates have started to bite and affordability has diminished.
Trade tensions and the direct and indirect impact of tariffs, which remain a wild card.
The likelihood that job creation will moderate as employers find it increasingly difficult to fill openings, which will create an additional headwind to growth.
The potential for inflation to heat up as a byproduct of tight job market conditions, rising labor costs, the disruptive effect of tariffs on trade, and rising input costs.
Despite growing headwinds and a probable slowdown in growth, the typical imbalances that presage a recession aren't readily apparent today. There are downside risks, but there is also a great deal of positive momentum in the economy. As such, recession risks appear quite low.
The bottom line:
The economy appears well positioned for the expansion to continue into 2019.