We're hearing increasing concern about the sharp partisan divide in Washington. Acknowledging the uncertainty that it creates, the year preceding Presidential elections have generally been good for stocks.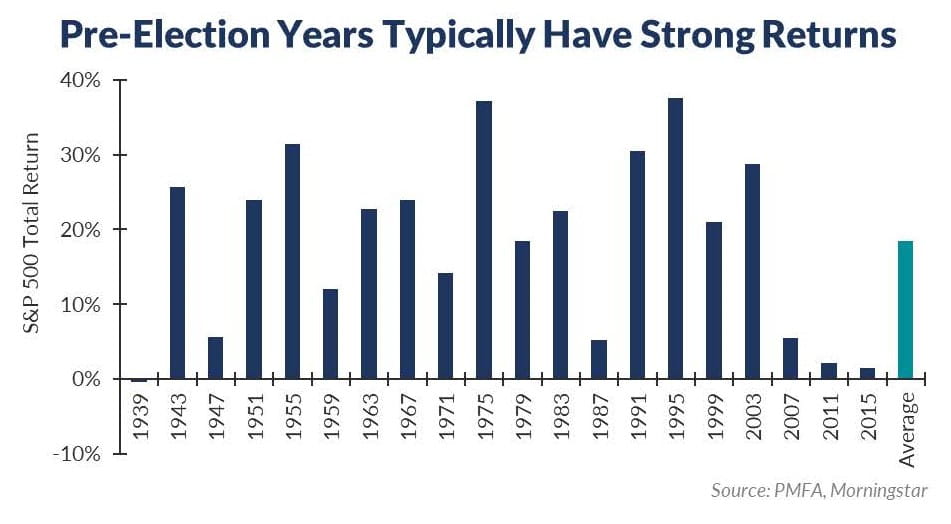 Political uncertainty is one of the most common concerns that we hear from investors, as the increasingly polarized atmosphere in Washington and the lack of clarity on policy create risk. Acknowledging that to be the case, there is always risk in assuming "this time is different." More often than not, it's not.

So how have equity markets performed in that year following mid-term elections and leading up to Presidential election years? Generally, returns in those years have been strong. In fact, the last time the S&P 500 experienced a negative return in a pre-election year was in 1939, near the end of the great depression and in the early days of World War II. Since 1943, the average return in a pre-election year has been about 18.5%, well above the average calendar year return of about 12% over that period.

The reasons behind this phenomenon are unclear. One possible explanation is that those in power are inclined to open the fiscal tap in hopes of providing a boost to the economy to boost their chances of re-election. The results have varied when government is divided, but there is no clear indication that such a division of power is either positive or negative. In short, equities have had both good years and bad years when control between Congress and the White House is split.

The stock market has always had to climb the proverbial "wall of worry," through recessions, wars, geopolitical crises, political uncertainty, and a myriad of other risks. It will have to do so again, but there's no reason to believe that this time it can't, just because this source of uncertainty is different.