While some are asking if the economic expansion is ending, continued strength in consumer spending suggests otherwise.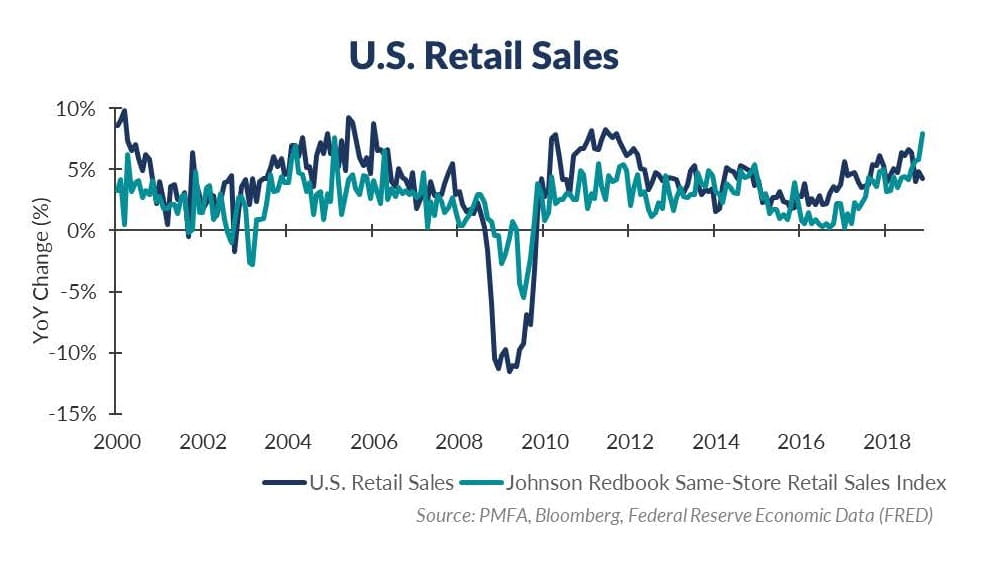 Recent market volatility notwithstanding, most measures of the economy remain solidly expansionary, even if signs of a growth slowdown are apparent. As we have noted in other recent commentary, equity market drawdowns in the absence of a recession have tended to be relatively short-lived. While we anticipate that market conditions could remain choppy for some time, the solid start to the year for equity markets has helped to provide some reassurance to nervous investors.

One notable area of strength continues to be consumer spending, which accounts for about two-thirds of all economic activity. Supported by strong labor market conditions and improving income growth, consumers on the whole remain quite confident, although some slippage from recent highs in measures of sentiment are likely. Retail sales have been strengthening in recent years, and the most recent holiday shopping season was expected to be a strong one.

The shutdown of the Federal government has delayed the release of the December retail sales results, but reports from individual retailers have been mixed. Recent reports from some traditional "bricks and mortar" retailers have disappointed, while internet commerce not only grew, but appears to be growing at an accelerating pace. Overall estimates still suggest that the holiday shopping season was solid, with annual sales growth likely ranking among the best in more than a decade.

As we've noted previously, the economy has clearly slowed since the summer, but there's still a big difference between "slower growth" and "no growth". Most data still points to the former, even if investors have been fearing the latter.