The real fed funds rate only recently moved near positive territory, after remaining below zero for several years. History suggests that the onset of recession is unlikely with real rates still this low.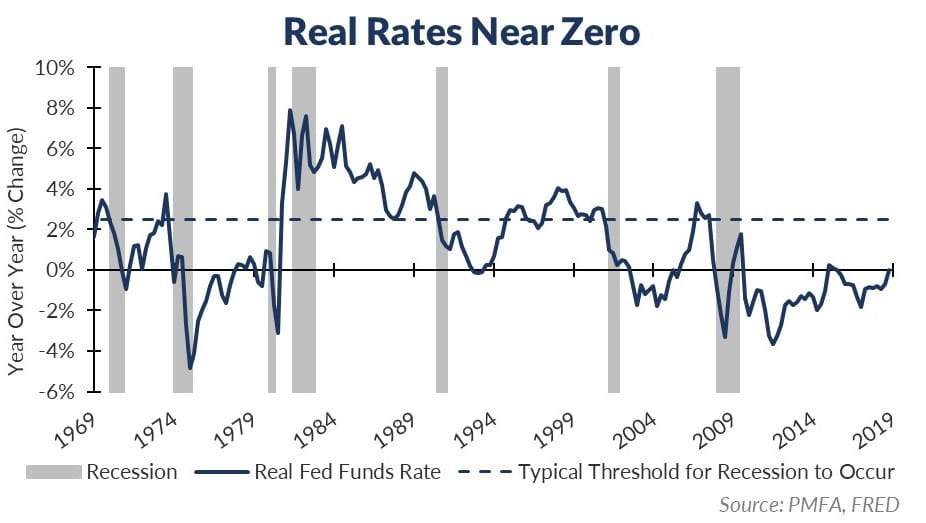 Despite the Federal Open Market Committee raising the fed funds rate nine times since 2015, short-term interest rates remain relatively low by historical standards. Even lower still is the real (inflation-adjusted) fed funds rate, which provides additional context around the current rate environment. Despite those previous hikes, the real fed funds rate is currently near 0%, only recently edging back toward positive territory, after being negative for most of the past decade. So, why does this matter?
As an economic expansion advances, tighter conditions lead to growing price pressures, prompting the Fed to increase rates to let some steam out of the economy. This generally leads to higher real rates, and — at some point — an end to the expansion. Today, with inflation still quite stable near 2%, the Fed is reasonably well-positioned to keep rates lower for longer, unless actual inflation heats up or inflation expectations begin to edge higher. Neither appear problematic in the near term.
It's also worth noting that, aside from the recession in 1981 when inflation was spiking sharply and the Fed arguably fell behind the curve in raising rates, the real fed funds rate has been above 2.75% before the onset of a recession — well above the current real rate near 0%.
Despite the hikes that have occurred in recent years, short-term interest rates remain low and inflation remains in check. It's possible that both will edge higher as the current expansion continues to mature and conditions tighten. For now though, the rate environment still appears to be supportive of continued growth.