While high and volatile inflation has been a problem in the past, the last few decades of low and stable inflation has been positive for the economy, and for investors planning for their financial future.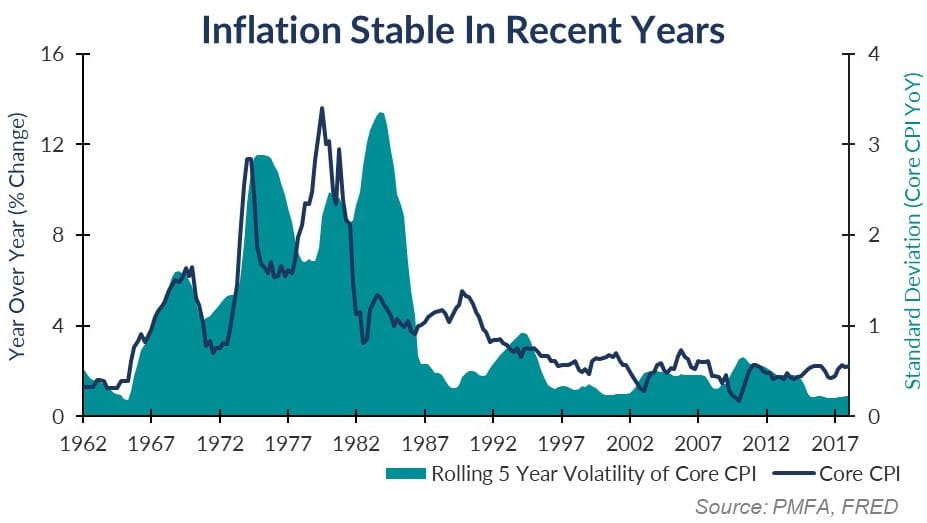 Low, stable inflation is an important underpinning for both the economy and capital markets. Stable prices boost consumer and business confidence, enabling them to make decisions without allocating time and resources in efforts to protect against the loss of purchasing power.
For over 20 years extending from the 1960s to the 1980s, inflation was not only much higher, but also exhibited much greater volatility, making investment decisions much more challenging. After peaking in the early 1980s, inflation slowed meaningfully in the years that followed. Having declined to a more sustainable range, inflation has been comparatively stable over much of the past three decades.
In recent years, some had voiced concerns about the potential inflationary impact of exceptionally low rates and quantitative easing. Instead, inflation has remained quite low; over the past year, the core Consumer Price Index has barely budged, remaining just a touch over 2%. This tame environment for inflation gives the Fed greater latitude to be patient in raising rates further, which should in turn provide continued support to the economy and reduce the risk of overtightening.
Certainly, inflation (and the potential impairment to long-term purchasing power) is a risk that should be considered when developing a financial plan. Relatively low, stable inflation makes that process easier. It should also be reassuring for anyone attempting to plan for specific future expenditures or, more broadly, investors planning for their retirement or other long-term financial goals.