After briefly inverting, the spread between the three-month and 10-year Treasury yields is back in positive territory.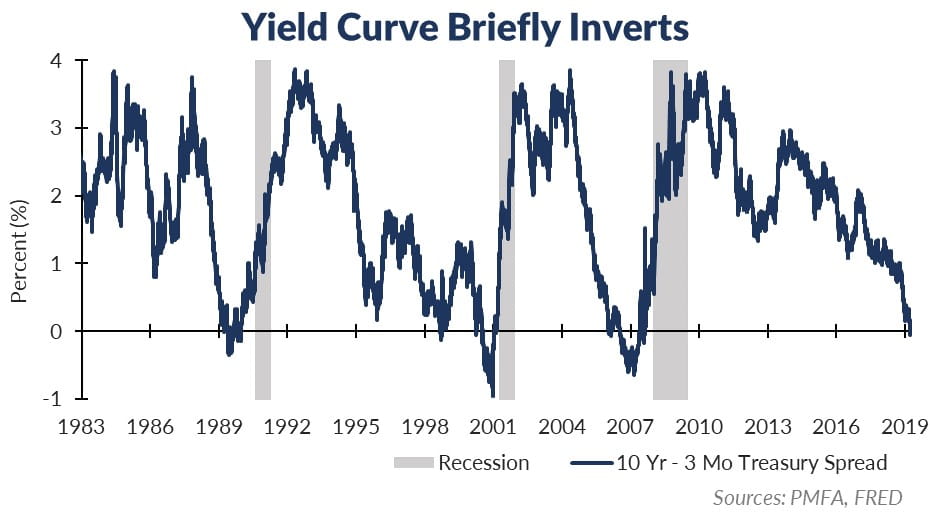 Coming out of its March FOMC meeting, the Fed adopted a more dovish tone, forecasting a pause in interest rate hikes for the rest of 2019. In the subsequent days, long-term yields declined, and the 10-year yield briefly dipped below the three-month yield, creating a temporary inversion. Historically, yield curve inversions are viewed as an early warning sign of a recession, although the lag can be substantial. (For example, in the last cycle, the yield-curve inverted nearly two years before the expansion ended.)

However, some clear differences exist between this recent episode and prior inversions. First, prior inversions have typically been more prolonged and pronounced. The last three yield inversions that have preceded recessions have lasted an average of over five months and exceeded a half percent on average, markedly different from the .05% inversion that lasted for just five days. The 1998 inversion being an outlier, both brief and shallow, where the economy went on to grow for over two-and-a-half years. Secondly, real (inflation-adjusted) rates remain well below the levels typically reached before the onset of a recession, as we covered in our previous commentary. Finally, the recent inversion was an immediate result of long-term yields falling, rather than an uptick in short-term rates, suggesting other factors may be at play (such as the comparative attractiveness of long-term treasuries for foreign investors).

While yield-curve flattening is typical in the latter stages of a cycle, we would caution reading too much into the brief inversion that recently occurred. The dovish pivot by the Fed, coupled with economic data that remains largely positive, suggests it's too soon to set an expiration date on this current expansion.