Investors will be closely watching the Q1 GDP release on April 26 for any sign of economic weakness. However, a soft reading shouldn't be a red flag.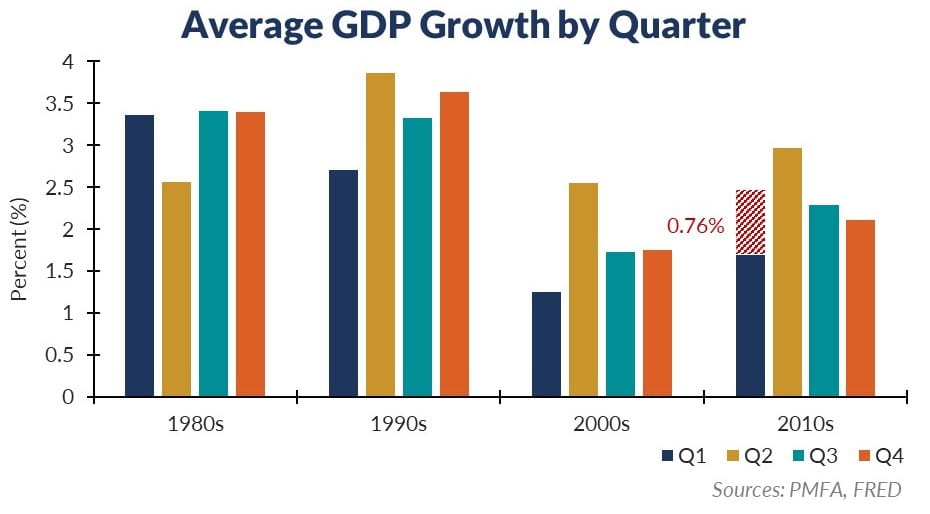 As the first release of Q1 GDP approaches, many will be looking for signs of economic weakness within the report, given recent softness in global growth and negative earnings growth anticipated for the first three months of the year in the United States. However, if first-quarter GDP does come in lower than the expected 1.8% rate, the outcome may not be a warning sign. In fact, weakness in the first quarter has been a recurring phenomenon over the last two decades.
Since the 1990s, Q1 GDP growth has lagged growth in the other three quarters by approximately 0.8% on average. This outcome suggests a potential flaw in the seasonal adjustment calculations that may distort first-quarter results. Additionally, the extended government shutdown that ran through most of January is expected to have had a meaningful impact on Q1 GDP, as many government workers went without pay for more than a month. While this has been a known factor, the impact to near-term economic growth is difficult to quantify.
As a result, investors shouldn't be surprised if the Q1 estimate for GDP misses expectations, and we caution against extrapolating a soft reading as the start of a new trend. To the contrary, incoming economic data suggests the economy is well positioned to expand through 2019, and expectations point to an uptick in growth later this year.