S&P 500 earnings are expected to fall in Q1 (and potentially Q2) on a year-over-year basis. However, earnings are still expected to hit new highs in 2019.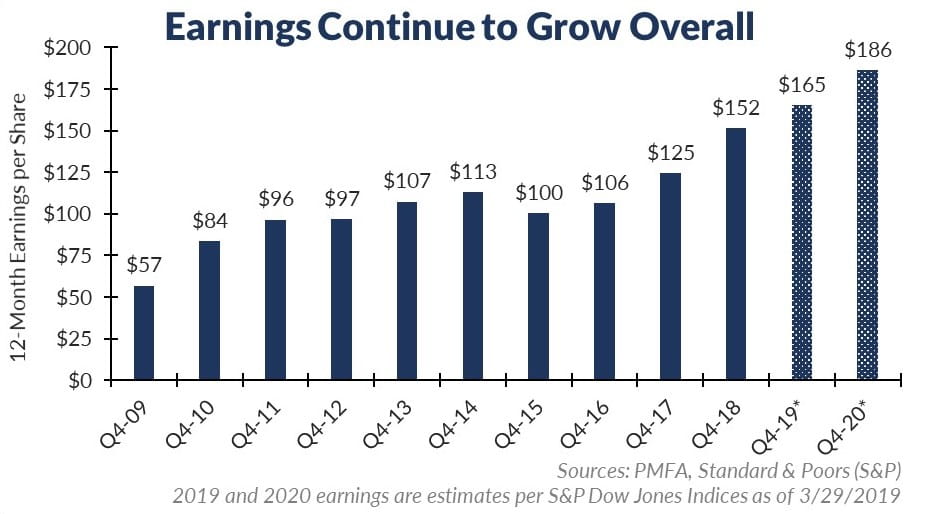 With the first quarter of 2019 in the books, investors have awaited earnings reports, hoping to see positive results and guidance going forward. Preliminary results have largely pointed to declines in earnings figures on a year-over-year basis, as well as lower guidance going into the second quarter.
Even so, 2019 calendar-year earnings for the S&P 500 are expected to increase from $152 to $165 this year, though the pace of growth is expected to moderate, consistent with the deceleration in the economy as a whole. Second-half earnings are projected to rebound sufficiently to generate mid- to high-single digit percentage growth for the full calendar year. If achieved, earnings in dollar terms would rise to a new all-time high.
In our view, a relatively weak Q1 earnings season coupled with downward revisions to earnings estimates shouldn't be alarming. As noted in our accompanying piece, the surge in earnings in 2018 was an anomaly and a slowdown was to be expected this year. Rather, conditions remain generally favorable and should provide support for equity prices, particularly with valuations still in a reasonable range and the economy well positioned to continue to grow.