While downward revisions in earnings expectations this year may look much different than 2018, the recent trend signals a return to normal.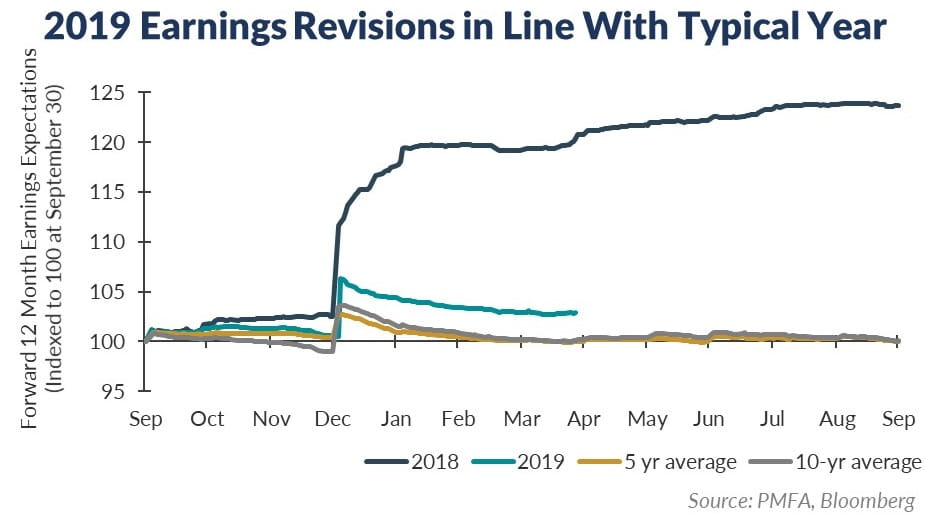 Earnings growth estimates for 2019 have been trending lower since the beginning of the year. This is a very different story from 2018, when earnings estimates skyrocketed early and continued to rise incrementally over the rest of the year. The divergence in expected earnings growth and the direction of revisions from last year to this year is striking.
The chart above illustrates 12-month forward earnings per share estimates for the S&P 500 over time for calendar year 2019 compared to 2018 and longer-term averages. Early last year, earnings per share expectations spiked significantly in response to corporate tax reform and stronger global growth, and then climbed steadily over the rest of the year as strong economic data continued to paint a positive picture. That stood in stark contrast to the norm since the global financial crisis, as earnings estimates have typically started higher and subsequently fallen over time. Why? Corporate management teams have made it a practice to guide earnings expectations downward, making it easier to deliver actual earnings that "surprise" to the upside over relatively lower hurdles. That familiar pattern is again evident this year, illustrating how unusual the surge in earnings - and the management of expectations - were in 2018.