History provides a clear warning on the impact of recessions on a sitting U.S. President's re-election chances. Want a second term? Keep the economy on track.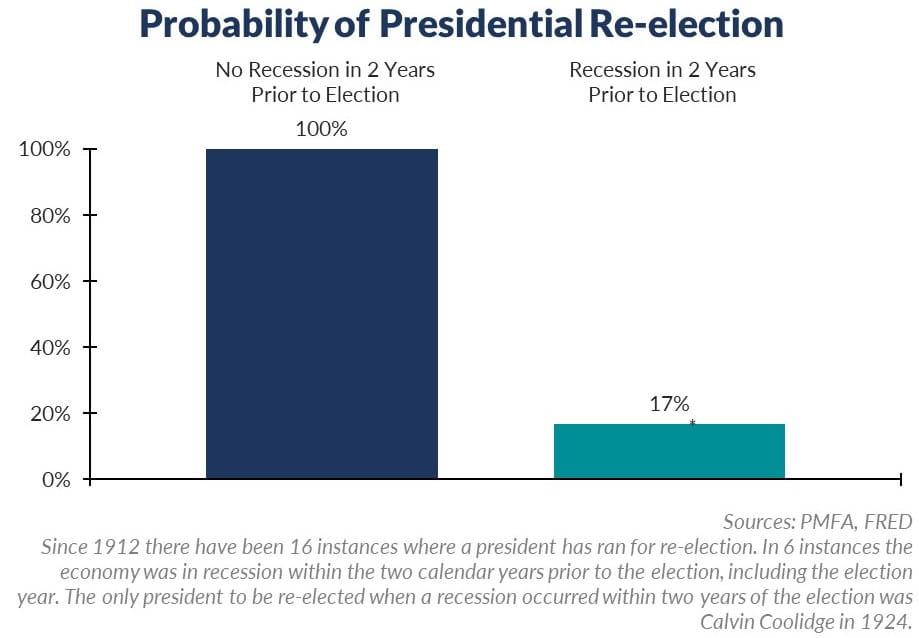 Until recently, there had been signs that progress was being made to resolve trade tensions with China. The recent escalation of trade concerns that expand beyond China have some wondering if the trade tensions could stifle the expansion. However, history would suggest that the president should be motivated to reduce the tensions before the negative impact on the economy worsens.

In the last 100 years, there has only been one instance (Calvin Coolidge in 1924) in which a president was re-elected when a recession occurred in the 2 years prior to the election. Contrast that with the track records for sitting Presidents running with positive economic conditions in the latter half of their term.

Given the risk that a protracted trade war would present to the economy, President Trump will need to walk a fine line in his efforts to craft a more favorable trade deal with China. Although there is some bi-partisan support for those efforts, a miscalculation in those efforts could not only prove costly to the economy, but also make it much more difficult for President Trump to succeed in his expected bid for a second term.