With moderating growth and low inflation, the Fed has moved closer to trimming its policy rate in the coming months.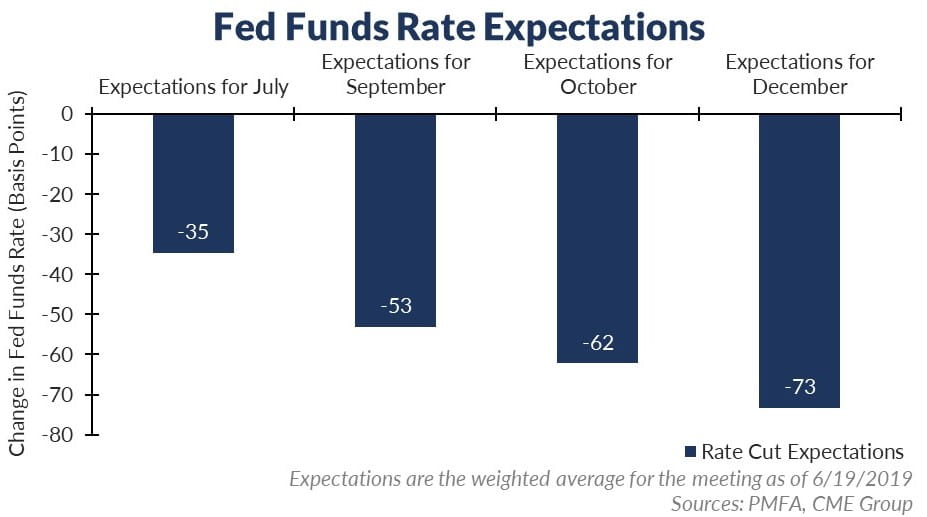 The Federal Reserve's Wednesday announcement affirmed what the markets had anticipated: a potential reversal in its long-standing tightening bias may be close. The Fed's core message on the economy remained generally positive -- sufficiently so for policymakers to conclude that rates should be left unchanged. Still, the acknowledgement of increased uncertainty was a meaningful shift, as were the updated projections indicating that nearly half of the central bank's policy making committee expect the need to cut rates before the end of the year.

Since the announcement, market expectations (via Fed funds futures) have moved to effectively reflect a 100% expectation for a July rate cut of at least a quarter-point and a nearly 70% probability that the Fed will trim by at least 0.75% this year. Just a month ago, that probability was only about 25%. The sharp reversal in sentiment has come amid increased trade tensions, more tepid growth expectations, and persistently low inflation.

Policymakers are hinting strongly at a rate cut, and market consensus is now overwhelmingly tilting in that direction. The question is whether the Fed's shift reflects a gloomier outlook or a preemptive move to avoid such a scenario. We address that in our accompanying piece.