The current expansion has lost some steam, but the Fed's shift toward potential easing should be viewed in context.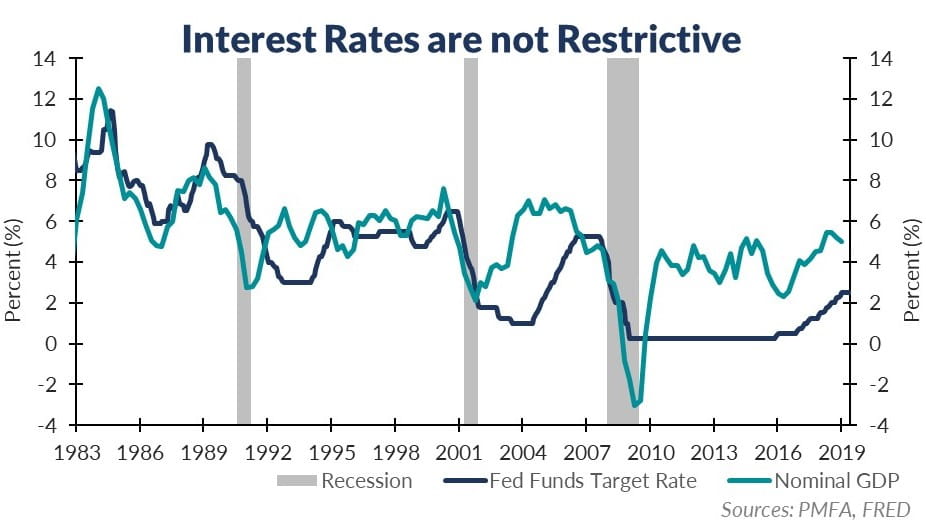 In response to recent softening in the economic outlook, the Federal Reserve has now clearly opened the door to cut its policy rate in an effort to stimulate the economy. In turn, investors may question what a rate cut may signal about the Fed's rationale for trimming rates and about the expansion's durability.

It's important to understand the rationale for any potential Fed easing in context. Growth has moderated, but the baseline view is for continued expansion. Recent recessions were preceded by Fed tightening that pushed short-term interest rates above the rate of nominal GDP growth. As illustrated above, that is far from the case today.

In the graph above, we would highlight two mid-cycle rate cuts of note in the 1990s. In 1995, the Fed eased following a 16-month period in which it had doubled its short-term policy rate and long-term yields had declined. An additional cut in 1998 was intended to provide stability in direct response to the Asian financial crisis. Following those cuts, nominal GDP accelerated by more than 1.5%, helping to extend an expansion that would go on to set a record for its length.

Can the Fed do it again? It increasingly appears that is what policymakers have in mind.