The rumors of a deal being close between the U.S. and China now appear to have been overdone. Now what?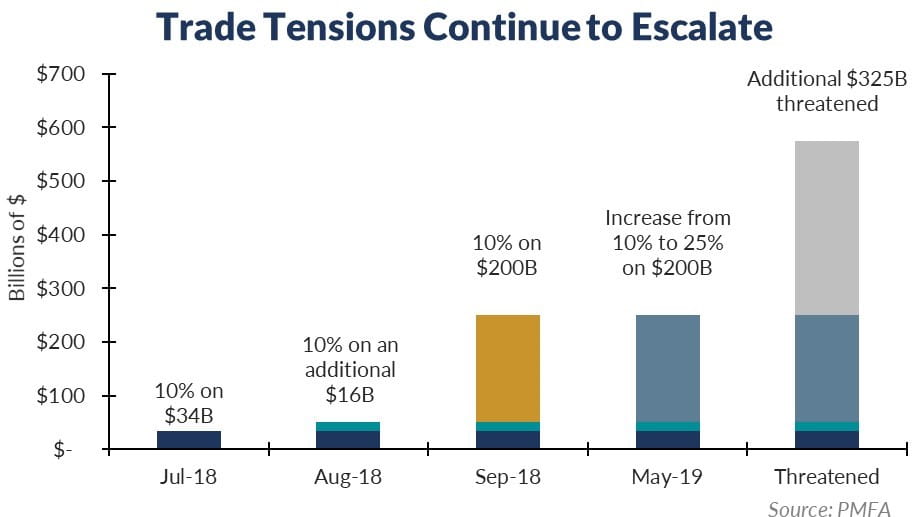 After several months of apparent progress in U.S./China trade talks, the discussions broke down in May after the Trump Administration accused China of backing out on several elements of the framework deal that had been agreed to by both sides. In retaliation, the President followed through with his threat to raise tariffs on $200 billion of Chinese goods from 10% to 25%. Soon after, China retaliated by raising tariff rates on $60 million of American products.

While the President has actually enjoyed a surprising degree of bipartisan support for his tough stance with China, that could dissipate if the dispute escalates. The impact of tariffs is already being felt in some parts of the economy (perhaps most notably agriculture and manufacturing), but the negative impact thus far has been blunted in part by the stimulative effects of last year's tax cuts. As fiscal stimulus fades, trade tensions escalate, and tariffs increase in size and scope, the risk to the economy that a protracted trade war would create increase considerably.

While the situation remains fluid and the outcome remains uncertain, the President will have to weigh the potential economic benefits of any deal with the political ramifications as well. In that context, getting a deal done sooner rather than later may be tempting.