Despite weaker prints on recent economic indicators, a cut from the Fed may provide a cushion for a softer landing.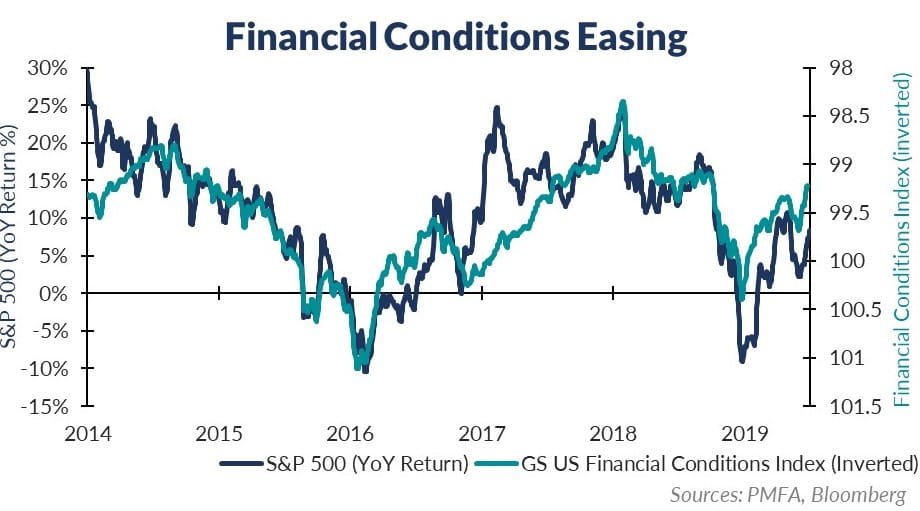 Recent mixed economic data has stoked concerns among investors that growth is slowing and that recession risk has risen. As a result, the latest comments by the Fed have been noteworthy, as policymakers have indicated they may be willing to ease conditions by cutting interest rates if incoming data remains sluggish.
Even without a cut, financial conditions have already become more accommodative in recent months, as credit spreads and interest rates have broadly fallen. With financial conditions loosening, the environment could be (and typically has been) increasingly positive for risk assets, including equities. Additionally, if the Fed were to cut rates, conditions could be perceived as even more attractive, so long as economic data doesn't materially deteriorate. Historically, stocks have done well as financial conditions eased. Recently, financial markets have started to price in that potential, which also creates a potential risk should the Fed ultimately not deliver a rate reduction as expected.
The bottom line is that if economic data continues to disappoint, the probability of a Fed rate cut will remain high. Easy financial conditions combined with a willingness by the Fed to trim rates, if appropriate, could provide additional "insurance" to create a soft landing for the economy, extending the current expansion.