Fear of missing higher returns may cause investors to increase risk. However, limiting downside can be just as important as upside participation.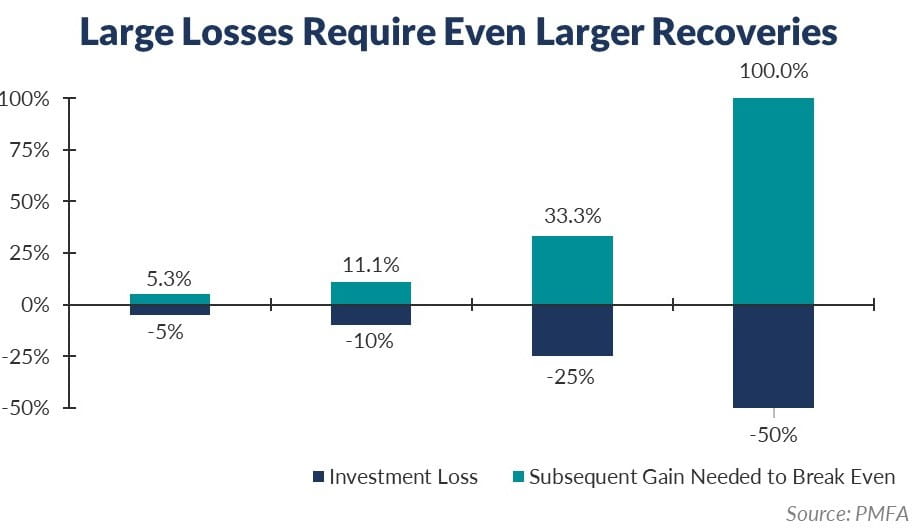 Given the strong returns of domestic equities over the past 10 years, investors may be considering shifts to a more aggressive risk profile and reducing exposure to other segments of the market. However, while maximizing upside is the goal for every investor, lessening drawdowns can be just as impactful to long-term performance.

The chart above illustrates the math of volatility, showing that the greater the loss experienced, the larger the gain that is needed to bring the portfolio back to its original value. In order to just break even, a 5% loss requires a 5.3% gain, a 25% loss requires a 33.3% gain, and a 50% loss requires a 100% gain. There's no question that U.S. large cap stocks have dominated in this recent bull market, but they have also experienced meaningful sell-offs over the last 20 years. Shifts in market dominance are inevitable, as top performers take their turn near the bottom of the pack, and key to why diversification works.

Maintaining a diversified approach can help to mitigate the downside in market sell-offs and provide a smoother ride for investors to achieve their goals. Less volatility also helps investors to stay in the game and not abandon one's strategy at the worst possible time. Ultimately, we caution against dismissing the benefits of diversification today.