While a potential rate cut later this year may make some investors nervous, equity markets often perform well in the 12 months following an initial rate cut.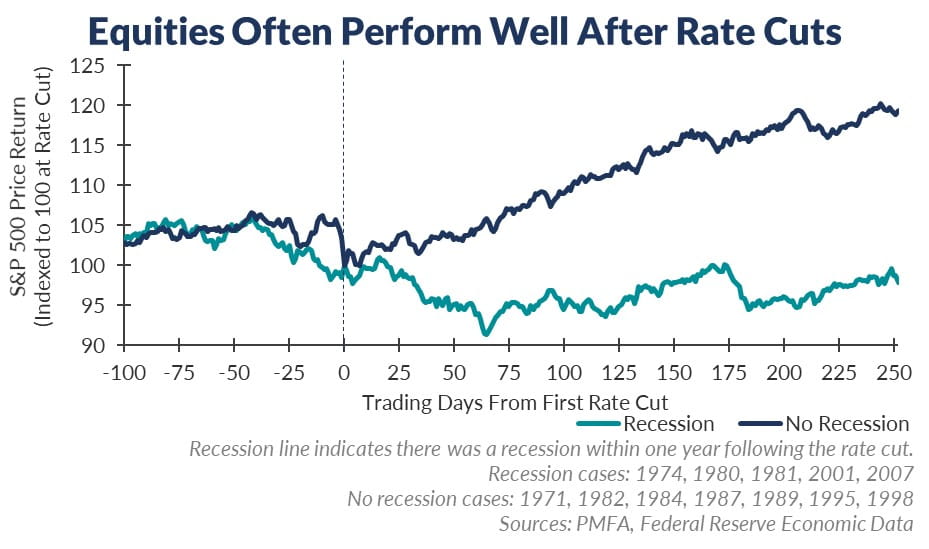 If the Federal Reserve cuts interest rates in the near term — potentially as early as this month — it would mark the quickest shift from a hiking cycle to a cutting cycle in its history. The Fed had been in rate hiking mode since the end of 2015 until early this year, when it signaled that a slowdown in growth and weaker economic data was compelling enough to shift to a neutral stance and slow the unwinding of their balance sheet.
Historically, a rate cut hasn't always indicated a recession looming in the near term. In fact, since 1971, there have been 12 instances in which the Fed has made an initial cut after making at least one rate hike, but in more than half of those cases, no recession followed in the ensuing year.

The chart above illustrates when a rate cut wasn't followed by a near-term recession, equities saw an average return of just over 19% in the next 12 months. Even in cases when a recession followed, returns on average were essentially flat one year later, but with a very wide range of actual returns (-24% to +30%).

The bottom line is that a rate cut isn't necessarily a bad omen for equities. As we discuss in our accompanying piece, easy financial conditions and a Fed willing to cut rates could help create a soft landing and avoid a recession in the near term.