Both U.S. equities and fixed income markets have provided strong year-to-date returns. Such recent market conditions are not typical.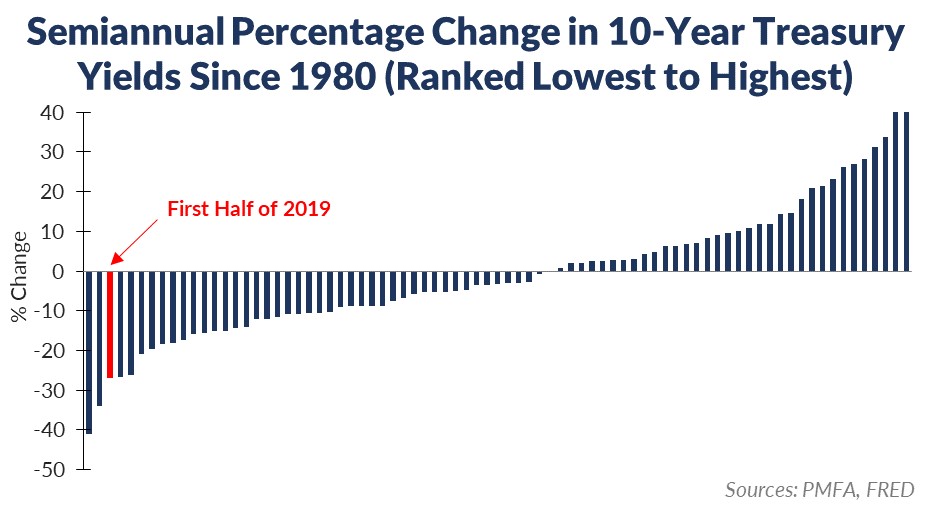 As discussed in our accompanying piece, global bond yields have dropped significantly since the beginning of the year. Of particular note, the bellwether 10-year U.S. Treasury yield fell from 2.83% at the end of 2018 to 2.07% halfway through 2019 — a sizable 27% reduction in the yield! This significant drop provided a boost to fixed income returns, with the U.S. Aggregate Index returning more than 6% from January 1 through June 30.

The chart above ranks the semiannual percentage change in 10-year Treasury yields since 1980 from lowest to highest. The percentage decline in yields over the first half of this year is the third largest over the period measured, though it's exaggerated given the low-rate environment, particularly compared to the lofty rates of the early 1980s.

Still, what makes this occurrence more unusual is that the outstanding return from bonds occurred alongside very strong equity market returns. Yields fell sharply on concerns about the slowing global economy, while equities were recovering from the correction that occurred late last year. The result was that both bonds and stocks registered returns in the first half of 2019 that were well above their long-term averages.

Could it continue? It's certainly possible. But the strong returns for both bonds and stocks in the first half of the year were unusual. At some point, investors should expect a return to a more normalized relationship between the fixed income and equity markets.