Despite headwinds in trade, manufacturing, and business investment, the consumer sector remains quite healthy.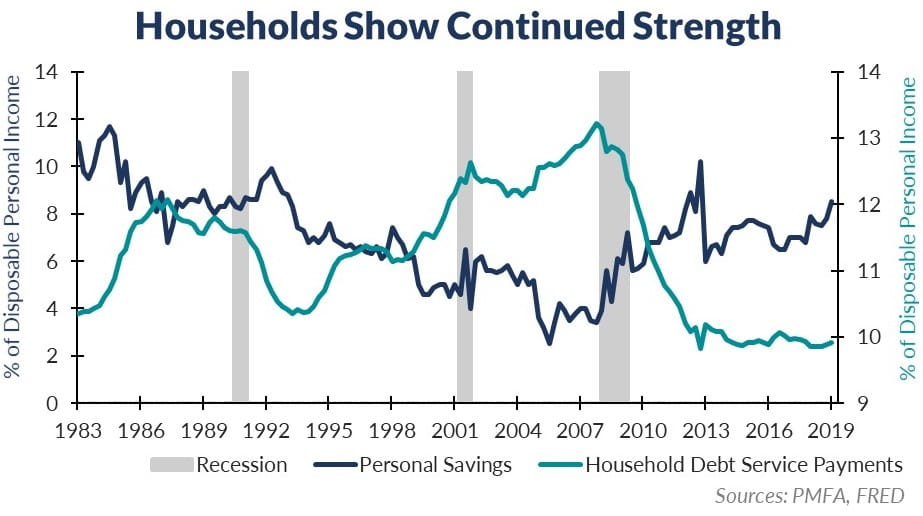 Despite some growing concerns on a range of fronts, the health of the consumer sector shouldn't be overlooked as a relative bright spot in the economy. Consumer spending, which comprises nearly 70% of economic activity, contributed to the lion's share of GDP growth in Q2. There are ample reasons to believe it could continue.
American households remain in a generally solid financial position, supported by low unemployment, plentiful jobs, and moderately growing income. In fact, household balance sheets are the strongest they've been in over 40 years, with low debt service ratios (debt payment requirements relative to disposable income) and high relative savings rates, as illustrated in the chart above. As a result, various measures of the consumer mood illustrate that, despite a range of uncertainties, consumers remain quite upbeat in their assessment of their personal financial circumstances and current economic conditions. Despite slipping recently, consumer sentiment is still hovering near an 18-year high, which generally correlates well with future growth in spending.

Given the slowdown in other areas of the economy, we continue to monitor incoming data for signs of any spillover into the consumer sector. For now, however, consumers appear well positioned to spend, continuing as the primary engine of growth for the economy.