An inverted curve is one economic domino that typically falls before the onset of a recession, but it provides little value as a timing indicator.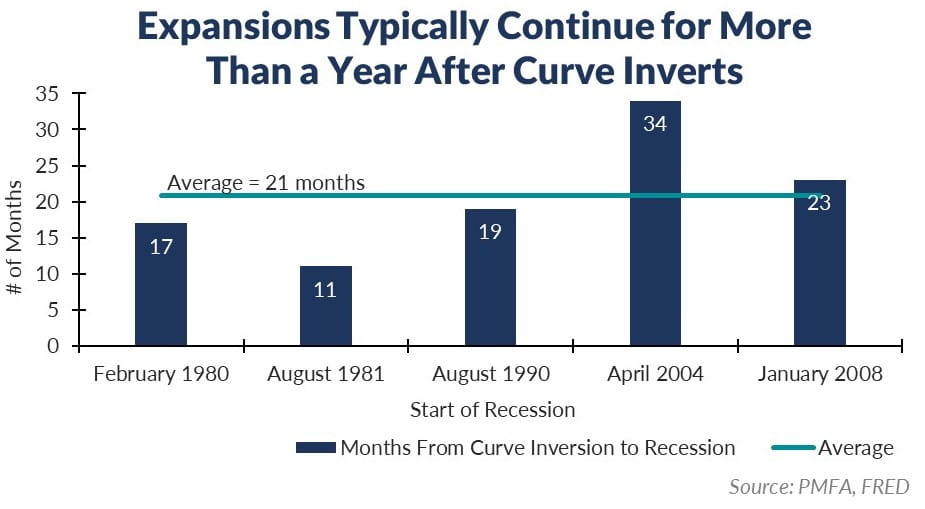 As noted in our
accompanying piece
, the yield curve's recent inversion (with the 10-year Treasury yield falling below the two-year yield) has sparked discussion around the near-term outlook for the economy. However, while an inversion has historically occurred in advance of the onset of a recession, it isn't an effective timing indicator. Since 1980, the lag time between a yield curve inversion and the onset of recession has varied widely (11-34 months), with an average lag of 21 months.
While an inverted curve is not a positive sign for the economy, it also hasn't signaled that a recession is imminent. It also hasn't historically signaled the end of an equity bull market, as stocks have typically performed well even in the year leading up to a recession. (For example, the S&P 500 returned nearly 20% in 2007.) However, in the latter stages of a bull market, heightened volatility may create a bumpier path for equities.
Today, economic data is mixed, with clear weakness in manufacturing and business investment acting as headwinds, while the consumer sector remains relatively upbeat and both willing and able to spend market volatility has increased. At some point, this expansion (like every other) will end. Even so, history would suggest that timing the turning point is impossible. The recent yield curve inversion shouldn't be dismissed. But the limits of its forecasting value should be understood.