Despite the recent inversion and rising risks, most recent economic data suggests that the economy remains on a growth path for now.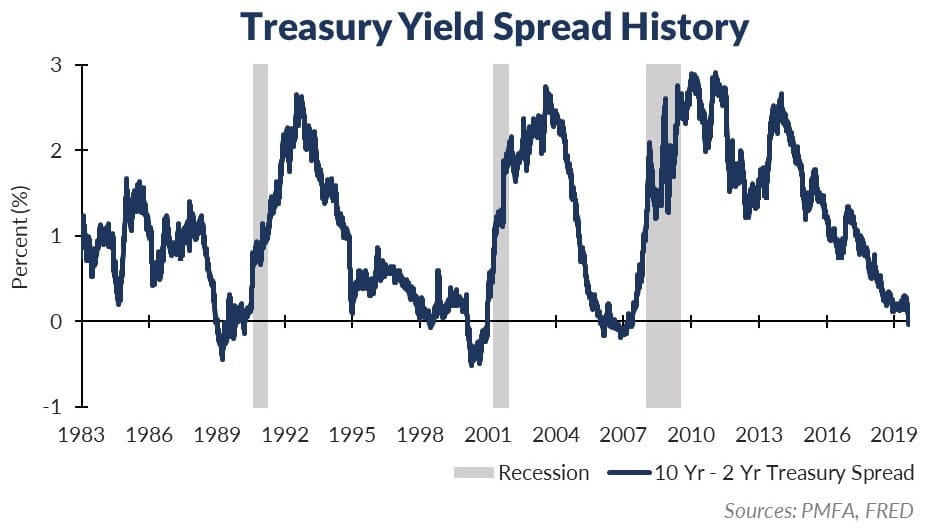 In late August, the yield of the 10-year Treasury note declined below that of the two-year Treasury note for the first time since 2008, creating an inverted yield curve. However, it didn't last long. In recent days, the 10-year yield has risen back above the two-year yield, resulting in a relatively flat — but still positively sloping — yield curve. Whether long-term rates will continue to edge higher or tip back below short-term rates (returning the curve to an inverted status) remains to be seen.
Since a curve inversion is often viewed as a recession indicator, this episode understandably raised questions about whether or not the current expansion may be nearing its end. Recent economic data has been mixed, and the negative effects of the trade war are growing, particularly in the manufacturing sector. Against that backdrop, the Fed has started to trim short-term rates, a positive step that could help to mitigate the negative factors weighing on the economy and extend the economic expansion.
We believe downside risks have risen, and the economy is showing its age, as growth expectations have been lowered. Still, despite those heightened concerns, most economic data points to an economy that is still growing, despite the headwinds. As investors try to read the tea leaves, what can they take from the shape of the yield curve? What does it signal for the near-term outlook? We address that in our
next piece
.