While the manufacturing sector recently slipped into contractionary territory, it isn't the first time it's occurred in this expansion.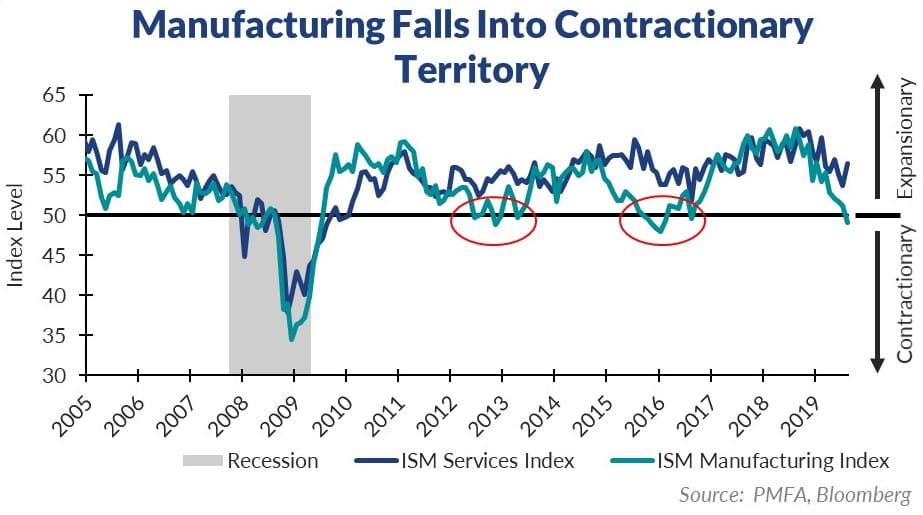 Manufacturing has a long-standing status as a barometer for the health of the economy. In August, the ISM Manufacturing Index slipped into contractionary territory, which is a reading below 50. Since a downturn in manufacturing activity often precedes a slowdown in the broad economy, any indication of contraction merits attention. However, the recent dip may not last — it's not even the first occurrence in the current expansion.

Over the past decade, there have been two periods where the index has similarly fallen below 50: in 2012 and 2015, then rebounded. In both instances, the service sector held up well and the manufacturing slowdown proved to be brief. While manufacturing is still important, the transition to a service-based economy in recent decades has diminished its impact on the business cycle in the United States. Today, the ISM Services Index remains in expansionary territory, suggesting solid growth therein. The wild card for manufacturing is the ongoing trade rift with China. Progress in negotiations would lift a huge cloud that hangs over the sector; further deterioration would conversely exacerbate conditions.

Overall, the slowdown in manufacturing is just one piece of the mosaic. While it presents a risk to the economic outlook, there are other areas of the economy that could help to offset this near-term headwind (as discussed in our accompanying commentary).