While recent volatility in repo markets may have rattled some investors, most measures continue to indicate that credit markets remain on solid ground.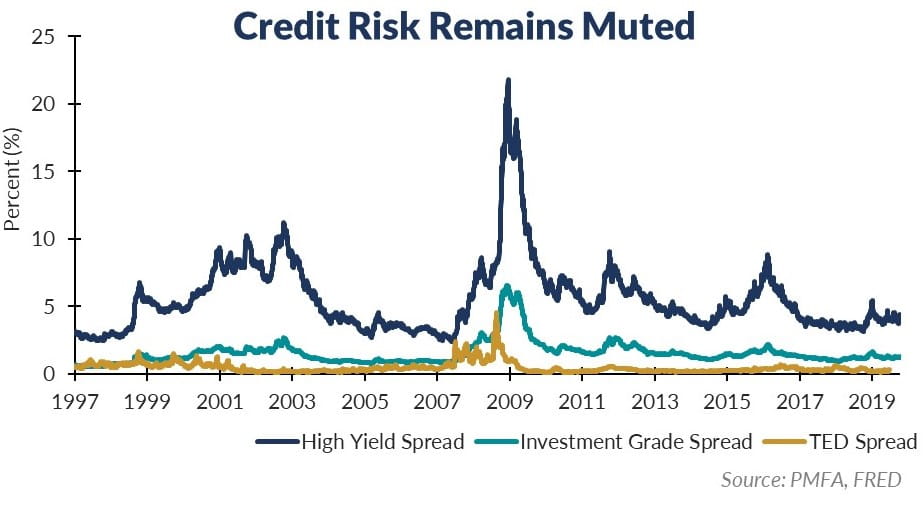 Recent events in the repo market (discussed in our accompanying pieces) have raised questions about the banking sector and credit market conditions. It's important to note that while the spike in repo yields was noteworthy, it doesn't provide a complete picture of the overall condition of credit market and banking sector conditions.
Another common measure of risk is credit spreads, which measure the difference between yields on comparatively higher risk securities (such as corporate bonds) and risk-free U.S. Treasuries. Wider spreads indicate greater perceived risks priced in by investors, while lower spreads indicate less perceived risk on the part of investors. As illustrated above, credit spreads today remain relatively stable — well below their peaks in 2009. Current high-yield spreads are particularly noteworthy, as they remain notably below levels reached in other recent periods of relative uncertainty (2012 and 2016). The TED spread (the difference between short-term treasuries and interbank lending rates), and investment grade spreads also remain relatively tight, also a constructive sign.
We will continue to closely monitor credit market conditions as an indication of potential stress in the financial system and markets. While the economy is showing signs of aging (as illustrated by September's weaker manufacturing numbers), credit market conditions are not showing broad signs of significant deterioration.