Recent events brought this relatively quiet part of the financial markets into the spotlight. As a result, many investors are asking why they should care.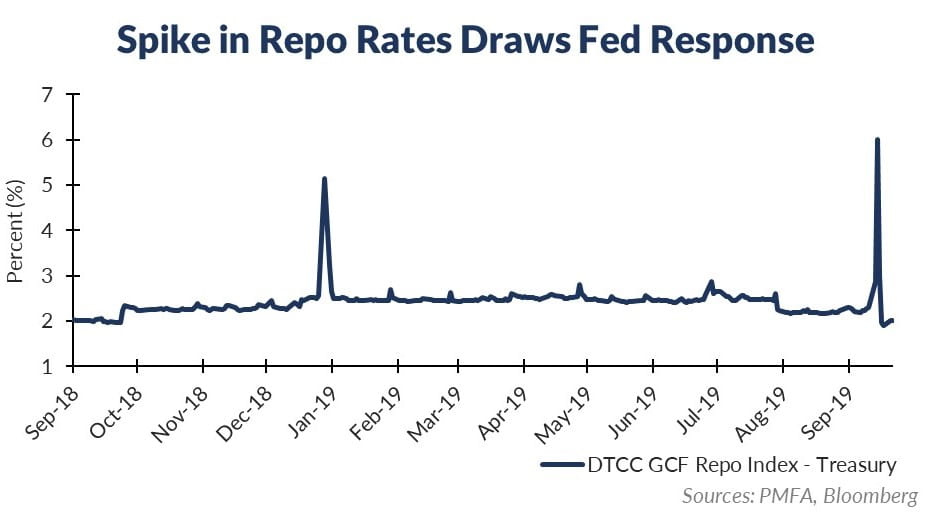 Repurchase agreements (or repos) are tools used by banks and other financial institutions to lend to each other on a secured, overnight basis for short-term funding needs. The repo market seldom warrants attention, despite being a critical cog in the machinery of the financial system. However, in mid-September, a combination of factors led to a temporary spike in repo yields and a need for the Federal Reserve to intercede.
So, what happened in September? The settlement of a large influx of new U.S. Treasury issuance and the quarterly corporate tax deadline pulled cash out of the banking system. These factors, coupled with changes in bank reserve requirements in recent years, resulted in a shortage of liquidity; there wasn't enough cash to meet the demand for overnight loans. That prompted the Federal Reserve to quickly step in to provide additional liquidity to help normalize conditions and bring the repo rate back down to a normal level. Those efforts have been successful, although the Fed continues to provide liquidity, and is expected to continue to do so.

While the brief spike in rates and the ongoing Fed intervention that has occurred in repo markets attracted investor attention, most believe that it wasn't indicative of a broader disruption or risk to the banking system. Other measures of credit sector risk remain benign, which we address in our accompanying piece.