The economy has slowed over the past year, but Q3 growth still easily exceeded initial expectations, with the consumer sector doing the heavy lifting.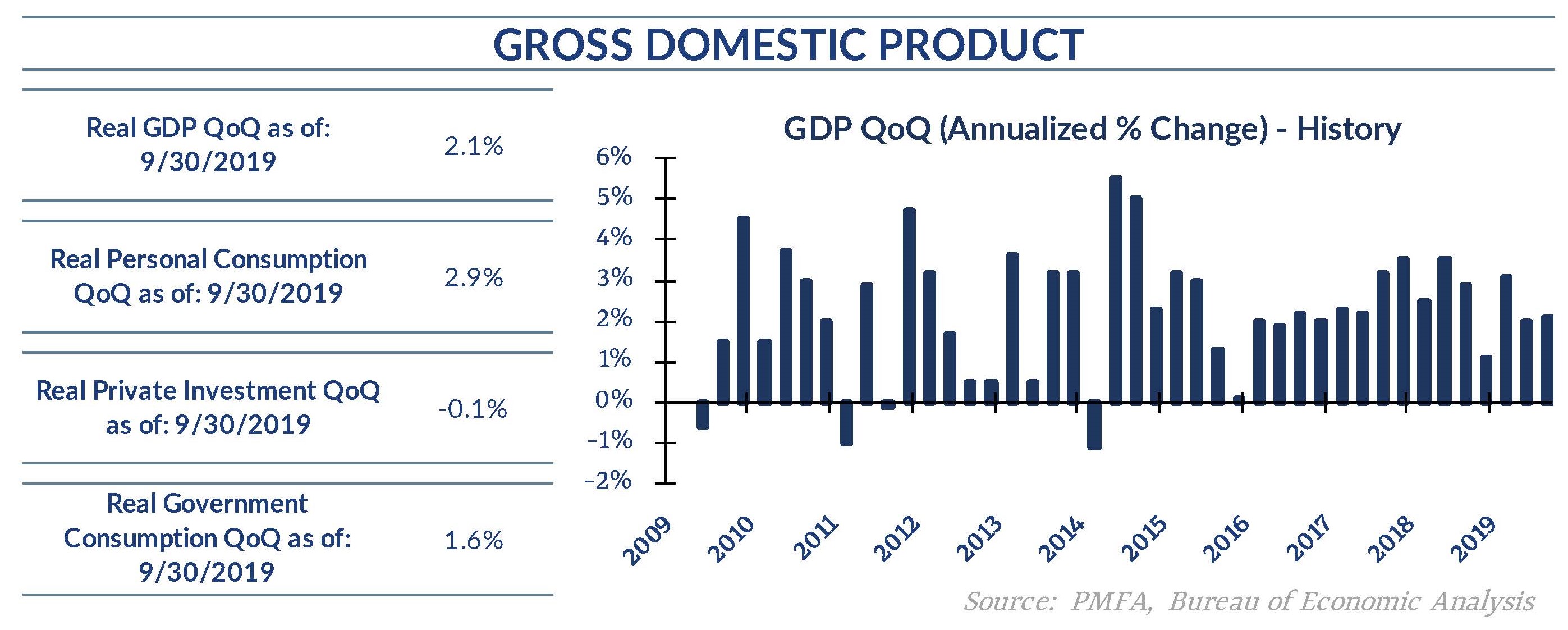 Revisions to the data were generally to the upside for the government's most comprehensive report on the state of the economy in the third quarter. The second estimate of third quarter GDP came in at 2.1%, modestly stronger than the initial print of 1.9%. If that holds through the next round of revisions, it would provide further evidence that despite being battered on multiple fronts, the economy may have weathered the storm this year reasonably well.
Inventory reduction and a sharp slowdown in exports had been significant headwinds to the economy in the second quarter, but improvement in both helped to alleviate slower consumer spending in recent months. Exports, which had contracted by 5.7% in the second quarter, expanded by 0.9%. Inventories added nearly 0.2% to overall GDP in Q3 – a sharp improvement after trimming growth by 0.9% in the prior quarter.
While the economy has clearly slowed over the past year, growth still easily exceeded initial expectations for the third quarter, with the consumer sector doing the heavy lifting.
Measures of consumer optimism have slipped somewhat in recent months, but still indicate a generally upbeat mood. Supporting that relative optimism is the continued strength of the labor markets, with unemployment and jobless claims remaining near half-century lows. Wage gains have been somewhat weaker in the current cycle than in the latter stages of prior expansions, but look much better when adjusted for inflation, which remains quite low.
Aggregate household budgets actually still appear to be in good shape. Household savings rates are still quite high, and debt payments as a percent of household income remain near multi-decade lows. Against that backdrop, consumers appear well positioned for continued spending growth.
CEO confidence still stands in sharp contrast to that of consumers. Broadly speaking, concerns about policy uncertainty and the slowing global economy have cast a cautious tone over corporate America. Beyond sentiment indicators, that's broadly apparent in weak business investment. Investment was effectively flat in Q3, which was still a much better result than in the prior quarter. Put an asterisk next to that improvement though, as it was almost completely attributable to stabilization in inventories. Investment in equipment and structures softened further.
All things considered, better-than-expected growth in the third quarter is good news against a backdrop characterized by uncertainty on a number of fronts. A range of other data also indicates that the economy may be emerging from its soft patch, alleviating near-term worries about the risk of recession.
Certainly, the economy is not firing on all cylinders. For now, consumers overwhelmingly remain the primary engine for growth. That's good news, because it's easily the biggest potential engine we have.