August's yield curve inversion proved to be brief and mild. Its reversal should help to ease near-term recessionary fears.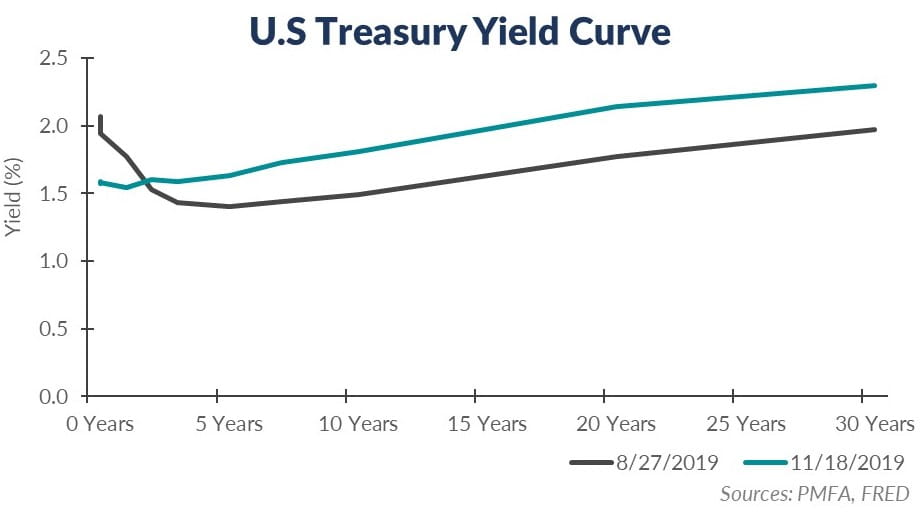 Looking back to the end of summer, the yield curve painted a different picture than it does today, with the 10-year rate below the two-year (creating an inverted yield curve) and long-term rates moving toward historic lows. Today, the yield curve is no longer inverted and long-term rates have bounced back. So why did this happen?
A combination of developments helped to reverse that brief, limited inversion. Incoming economic data, particularly on the consumer side, has been generally positive, with the most recent readings for nonfarm payrolls, consumer confidence, and retail sales all pointing toward continued growth and a healthy consumer sector. There are also indications that the hard-hit manufacturing sector may be stabilizing. With the economy finding its footing, investors have been more willing to take on risk (i.e. selling bonds for riskier assets), in turn putting upward pressure on long-term yields. Meanwhile, the series of recent Fed cuts have brought down short-term rates. Combined, these factors resulted in a flatter yield environment, which (while still not ideal) has calmed recession concerns (discussed in our
previous piece
).
Given the various headwinds still present, it may be too soon to signal the "all clear" on the economic growth front, but easier financial conditions, generally constructive economic data, and a more normal yield curve provide reasons for optimism.