Earnings growth has clearly slowed from the highs in 2018, but is expected to improve in the coming quarters.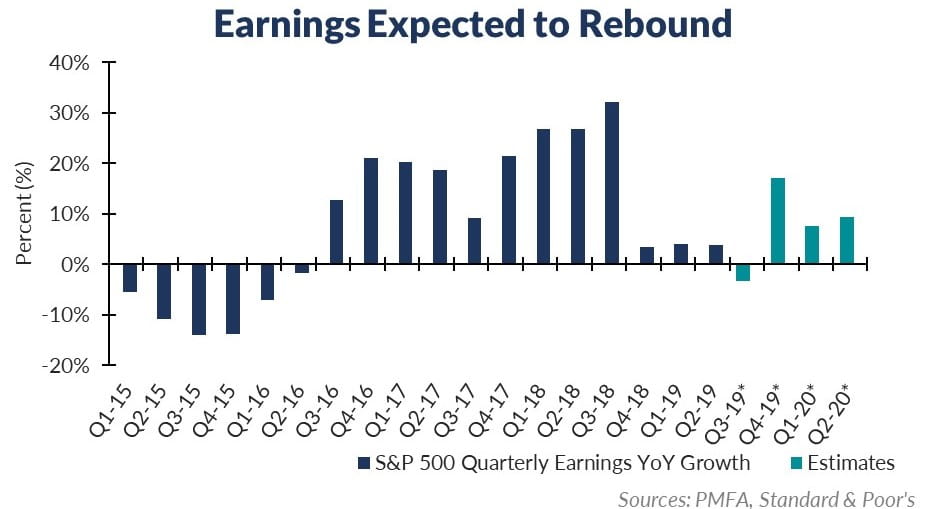 As shown in the chart above, S&P 500 earnings peaked well over 25% on a year-over-year basis in 2018, as corporate tax cuts provided a significant boost to profits. With the positive effect of tax reform fading, earnings growth has declined significantly, with virtually no increase for the first half of 2019. Third-quarter earnings growth is expected to turn negative, as tariffs and slowing global growth (particularly in manufacturing) remain headwinds.

However, a rebound in earnings broadly may be on the horizon. While analysts have anticipated a slight decline in earnings for the third quarter, actual earnings have typically come in 3-5% above expectations. Thus far, most companies that have reported have posted stronger-than-expected profits for the third quarter, a sign that earnings growth could actually be on the mend, and may end up in positive territory.

Additionally, global economic growth is expected to stabilize and edge moderately higher in 2020, with support from many global central banks easing monetary policy. Earnings estimates forecast the potential for double-digit growth over the next year. The more than 20% growth from 2018 is unlikely to return soon, but earnings are still expected to grow at a solid pace in the coming quarters, providing a solid foundation for equity returns.