Rising rates weighed on housing in late 2018, but a sharp reversal in rates has set the stage for a potential rebound.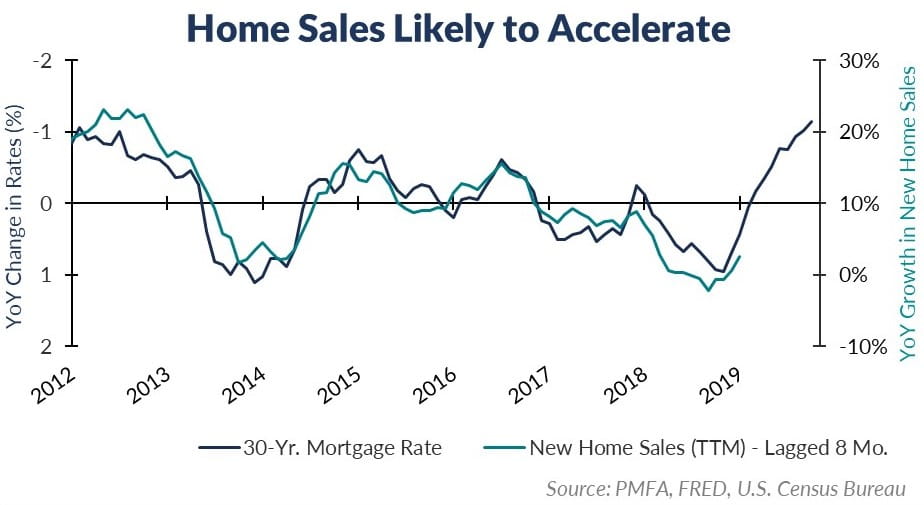 While the housing market no longer makes up as large of a portion of the economy as it did a decade ago, housing remains an important cyclical indicator of the strength of the consumer. The positive effects aren't limited to just the direct housing market impact, as homebuyers often follow that up with purchases of durable consumer goods such as furniture and appliances.
Housing affordability is a key factor, and mortgage rates play a critical role. Lower rates make housing more affordable, contributing to increased demand for homes, while higher rates tend to have the opposite effect. As shown in the chart above, growth in new home sales has closely tracked mortgage rates (with roughly an eight-month lag). New home sales faltered as mortgage rates rose in 2018, but the recent meaningful decline in mortgage rates should support a rebound in home sales in the coming quarters. Recent data suggests that an uptick in sales has already begun.
Ultimately, lower mortgage rates are just one benefit of the Fed's recent "insurance cuts," and the positive impact that easier financial conditions can have on the economy and consumer. Strength in the housing market would lend further support to an already healthy consumer sector (as we've previously
discussed
).