Payroll growth easily beat expectations in November, pushing the jobless rate back down to a 50-year low.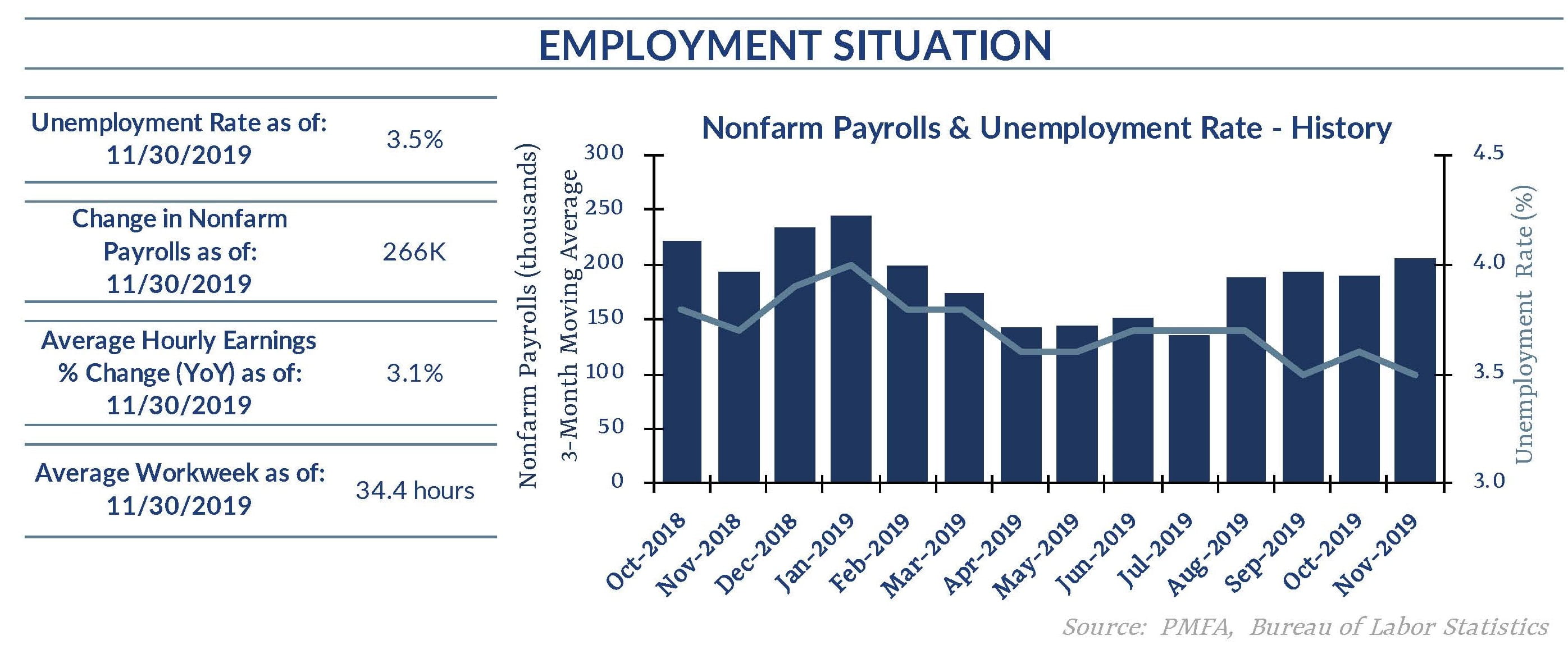 Despite the evidence that the economy was slowing and the rising angst over recession risk just a few months ago, the case for a continuation of the expansion continues to build. No where is this more evident than in the jobs market.
The November results were clearly juiced by a surge in manufacturing payrolls in the wake of the GM strike; the addition of 54,000 manufacturing jobs was largely a wash with the loss of 43,000 in the sector in October. Adjusting for that, job creation still topped 200,000 for the month, with an additional boost of 41,000 flowing through revisions to the preceding two monthly tallies. All in, payrolls increased by over 300,000 in the current report – a blowout number that easily beat all expectations.
Despite increasingly tight labor market conditions, average hourly earnings have not moved considerably higher in recent months. Average hourly earnings rose by about 3.1% over the past year, below the gains that might be expected in a mature expansion and with the jobless rate so low. The clear offset to that is the fact that various measures of inflation remain at or below 2% -- also lower than would be typical under such conditions. Viewed through that lens, real wage gains are not as weak as they may appear on the surface.
The strength of the labor market remains a critical underpinning to the consumer sector – overwhelmingly the primary driver of the U.S. economy today. Although measures of the consumer mood have slipped in recent months, they still have a relatively rosy outlook on their personal financial circumstances and the economy as a whole.
What does that mean for the economy? An optimistic consumer sector supported by constructive job market conditions and growing wages should be predisposed to continue to spend. The overall strength of household balance sheets, debt payments that remain relatively low as a percentage of income, and solid household savings rates also suggest that consumers have the latitude to do so.
The consumer sector remains the primary engine for the economy – and that's great news, because it's a big engine. The jobs report is just one more indication that the expansion, despite its advancing age, remains very much alive.