Both stocks and bonds had strong gains in 2019, leading to the strongest return in decades for balanced investors.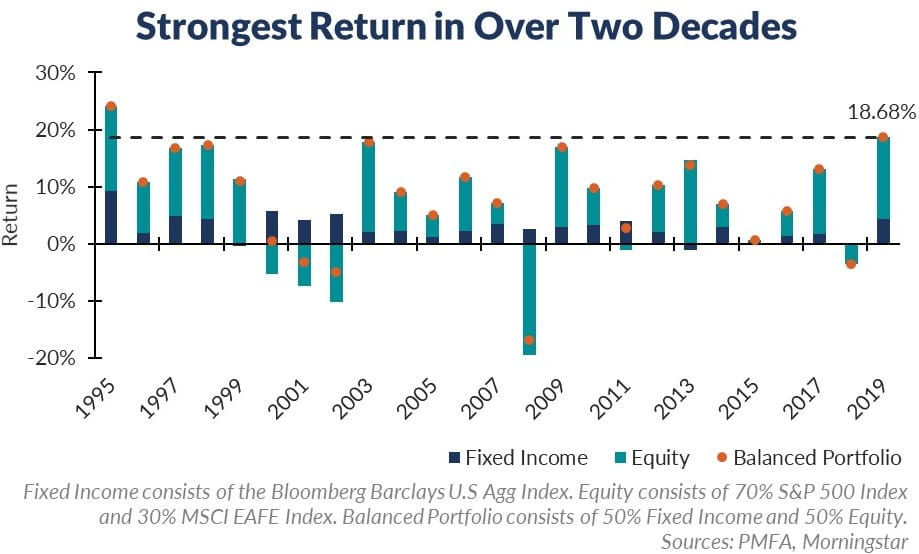 Despite a number of uncertainties coming into the year, 2019 proved to be an exceptionally strong year for both equity and fixed income markets, with the S&P 500 up 31.5%, the MSCI EAFE up 22%, and the Bloomberg Barclays U.S. Agg up 8.7%. Combined, the three indexes provided a return of 18.7%, the highest return for a balanced portfolio since 1995. So let's look back at the factors that played into those returns.
Fixed income returns were supported by the Fed's pivot toward trimming its short-term policy rates in response to slowing economic growth, falling inflation expectations, and global uncertainty. Long-term rates had already been driven lower by investors seeking shelter against those risks. Combined, these factors resulted in lower interest rates, which in turn, boosted bond returns.
Equities, fresh off of a notable market correction in late 2018, were supported by reasonable valuations and positive momentum when that correction appeared to be overdone. The Fed's accommodative shift, a healthy consumer sector that acted as the primary engine for economic growth, and continued corporate earnings growth helped to carry equities higher throughout the course of the year.
While 2019 returns may be difficult to replicate, we believe both equities and fixed income are still positioned to add positive returns in the coming year, as the economy forms a solid base heading into 2020.