Despite a slowdown in consumer spending, economic growth held steady at 2.1% in the fourth quarter, exceeding expectations.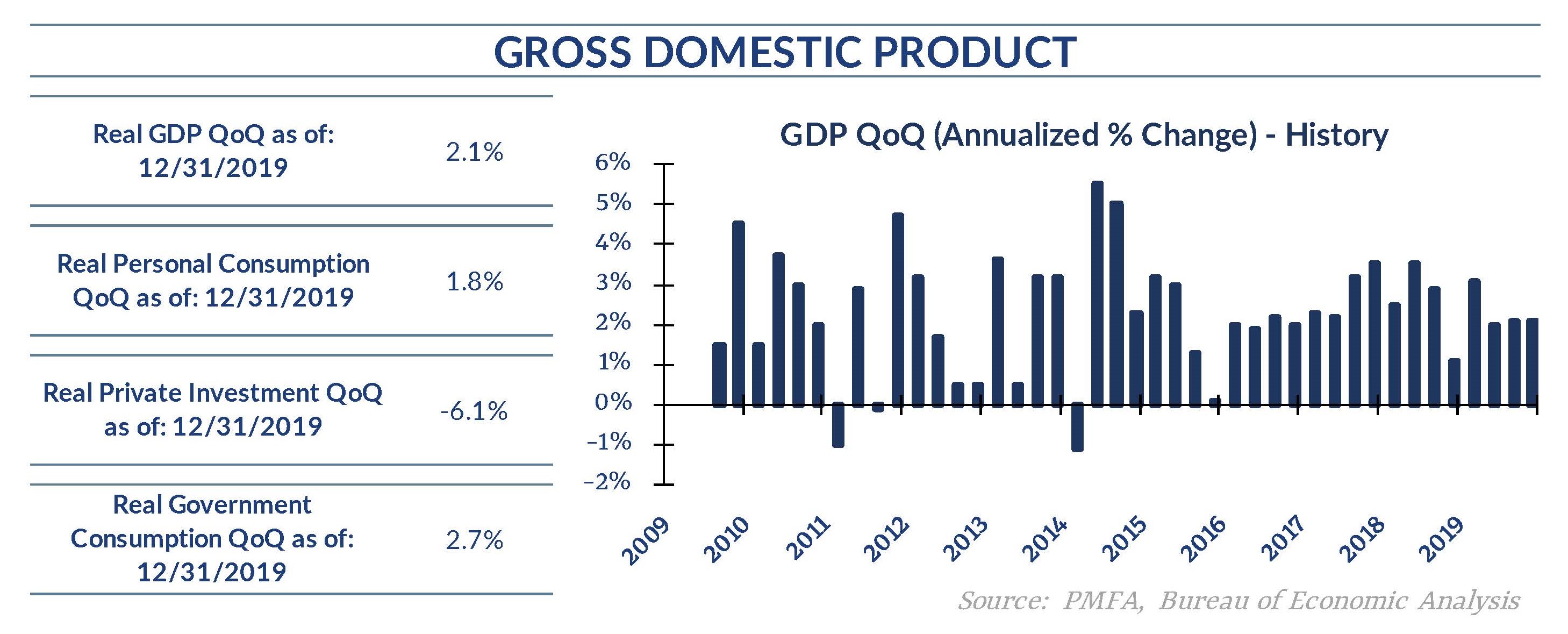 "The economy held steady in the fourth quarter, despite a sharp slowdown in the pace of consumer spending growth. Given the recession fears that percolated up last year, a continuation of the moderate growth environment that characterized the past six months should be well received."

The government's initial estimate of fourth quarter GDP came in better than expected at 2.1%, modestly surpassing expectations. While still subject to revision, it appears that the economy basically held pace with the preceding two quarters. The headline number may suggest a continuation of the status quo, but the underlying drivers of that growth continue to shift.

Consumer spending growth faltered in the fourth quarter, expanding by just 1.8% versus 3.2% in the preceding three months. As the largest driver of the U.S. economy accounting for about two thirds of all activity, the relative slowdown in spending growth is noteworthy.

Business investment actually deteriorated, shaving over 1% off headline growth. Spending on buildings and equipment remain soft, but it was a significant drawdown in inventories that accounted for nearly all of that headwind.

The big story for the quarter was the sharp reduction in imports coupled with a moderate uptick in service-oriented exports. The swings in trade contributed nearly 1.5% of the 2.1% growth for the quarter. Although consumer spending growth slowed, more of those dollars stayed in the U.S. Much of that is undoubtedly attributable to the impact of tariffs that have raised the prices of imported goods, and other disruptions caused by the ongoing trade row with China.

Beyond the growth figures, today's report also shed additional light on the inflation picture. Despite persistently tight labor market conditions, inflation shows no evidence of accelerating. To the contrary, various inflation measures included in the report clearly indicate that inflation pressures eased in the fourth quarter.

The PCE deflator excluding food and energy dipped by a half percent in the fourth quarter to just 1.3%.

Although recession fears have faded, the lack of inflation pressures gives the Fed ample latitude to keep rates low or consider trimming them further. If prices fail to firm in response to the Fed's recent cuts, some additional easing could be back on the table.

The bottom line is that the economy appears to have successfully sidestepped a more pronounced slowdown that sent ripples of fear through the market last year. Certainly, the economy isn't firing on all cylinders, but it also doesn't appear to be at risk of stalling out either.