Four questions leaders need to consider today (and what these unique execs think about them)
At the 2019 Plante Moran Executive Forum, our Learn from Leaders panel brought together diverse executives from industry-leading organizations to discuss innovation, bridging the age gap, and getting candid with staff. Break out your notepad — you'll want to write this down.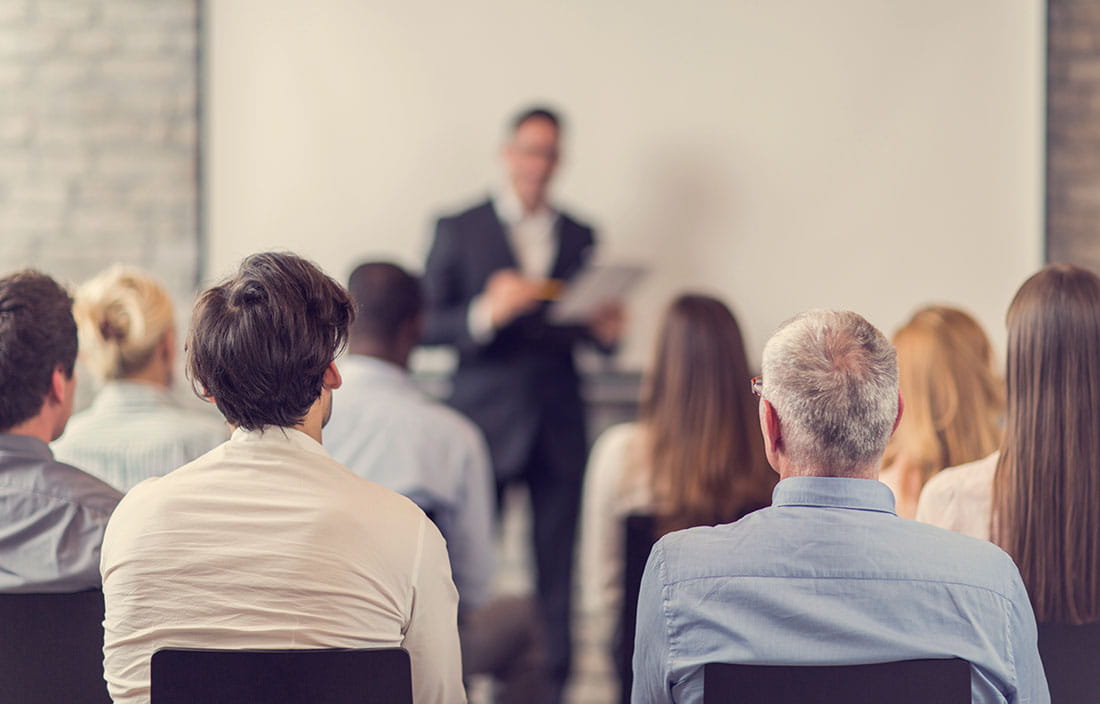 When seeking knowledge from peers, what's more useful and intellectually stimulating than diversity of thought? Of the leaders we brought together for our "Learn from Leaders" panel at the recent Plante Moran Executive Forum, the one thing common within the group was that they're all executives at industry-leading companies. The industries they work in and the paths that brought them there couldn't be more different.
I had the privilege of moderating this year's discussion, and among the panelists were Carolyn Wilson and Lina Hourani-Harajli. Carolyn, a nurse-turned-executive, is the executive vice president and chief operating officer (COO) of Beaumont Health, Michigan's largest healthcare system in inpatient admissions and net patient revenue. Lina is the COO of ACCESS, the nation's largest Arab American community nonprofit, as well as a mother of four. It goes without saying that these women know a thing or two about managing people.
Giving your people the option to comment on you, too, effectively demonstrates how to accept feedback as well as how to give it.
Here's what these power players had to say when I asked them questions leaders everywhere are asking themselves as we look toward 2020. (Spoiler alert: I weigh in as well.)
1. One of the biggest challenges many leaders face is getting honest feedback. How do you create an environment where supervisors feel confident giving candid, productive feedback and staff feel comfortable speaking up when they have a challenge?
Lina Hourani-Harajli (LHH): I coach my team to "say it as you see it." When I first became COO, we'd do evaluations once a year, and it's hard to give effective feedback about something that happened months ago. Timely feedback is a way to invest in the future and help your people grow. As a first-time supervisor in my twenties, I had to give difficult feedback to a staff member, and they cried. I felt terrible and thought I totally messed up, but a week later, they stopped by my office to thank me. It can be painful to hear unflattering feedback, but it's necessary to improve.
Carolyn Wilson (CW): Showing vulnerability as a leader can set the right tone — for example, asking staff to critique me after observing me giving a speech. Asking open-ended questions like, "What should I have done differently?" and giving people the option to comment on you, too, effectively demonstrates how to accept feedback as well as how to give it.
Jim Proppe (JP): That's a great method — one of our leaders would often ask younger staff how he did in client meetings, and while at first, they wouldn't say much, over time, they learned to observe with a critical eye and got comfortable giving useful feedback. As Frank Moran used to say, candor is kindness.
2. How do you foster a culture of innovation that encourages staff to present new ideas and helps your team adopt them?
CW: At Beaumont, we say that if you dislike change, you're in the wrong business. We encourage and award new ideas. Every month, we do a "speak up" award, where great ideas are recognized by our leaders. We have a budget allocated to internal grants for testing out new ideas like methods to reduce falls or infections. It's smaller than a national grant, but it's often the seed needed to allow teams to explore ideas that can make a big impact.
LHH: It's really important to us that our people aren't just sticking to the status quo, so we've introduced the idea of "failing forward." Failing at one idea helps you find a newer, better idea, so creating comfort around failure and framing it as a necessary step in the direction of success gives our people confidence to try new things.
JP: I love the "failing forward" concept. Resisting perfectionism is a big part of our innovation strategy, too. We call it the 80% rule — we get an idea 80% of the way there before we get it out of the lab, trusting that we can perfect it in the next phase. We believe it's riskier to wait until something's 100% perfect to release something than it is to release something almost perfect that can be used now.
3. You all lead large organizations staffed with people from different generations. What's your approach to managing generational differences?
CW: We're lucky — people often choose healthcare because they like to work with and serve others, so we're already ahead in getting our staff to work together. But a lot of our people are used to being top of their class, and many physicians are used to leading the ship, so we're working on training in teams now, and training our people to use team concepts for problem solving. We also find it helpful to create a big moonshot goal — our current one is to be the top healthcare company in the nation — that everybody in the organization can rally around and work toward achieving.
LHH: ACCESS is unique — we serve clients in 27 languages, so we have a very diverse staff as it is. As of recent, we have big generation gaps. Some of our people have been here for more than 40 years, but 50% of our staff are millennials, so there's a lot of age diversity. The most helpful thing for us is clear and consistent communication. Emails are so quick to send, but there's no tone, so it causes miscommunications all the time. You can't beat an in-person conversation.
Give people the benefit of the doubt and be optimistic. That mindset is a much easier starting point for working out problems.
4. What's the most important thing you've learned as a leader?
LHH: Learn to give yourself a break, because it's really not that bad. Also — and I just spoke to our diversity and inclusion committee about this — you've got to give people the benefit of the doubt and be optimistic. That mindset is a much easier starting point for working out problems.
CW: Don't take yourself too seriously. As leaders, we think we're irreplaceable, but I've learned the hard way sometimes that we are very replaceable. The team is able to do more than we can as individual leaders, so we need to train them if we want to reach our organizational goals.
JP: For me, it's servant leadership. As leaders, we succeed when we put ourselves at the bottom of the org chart and help others be all they can be.