The manufacturing sector unexpectedly weakened in December, as new orders and production slowed more rapidly than anticipated.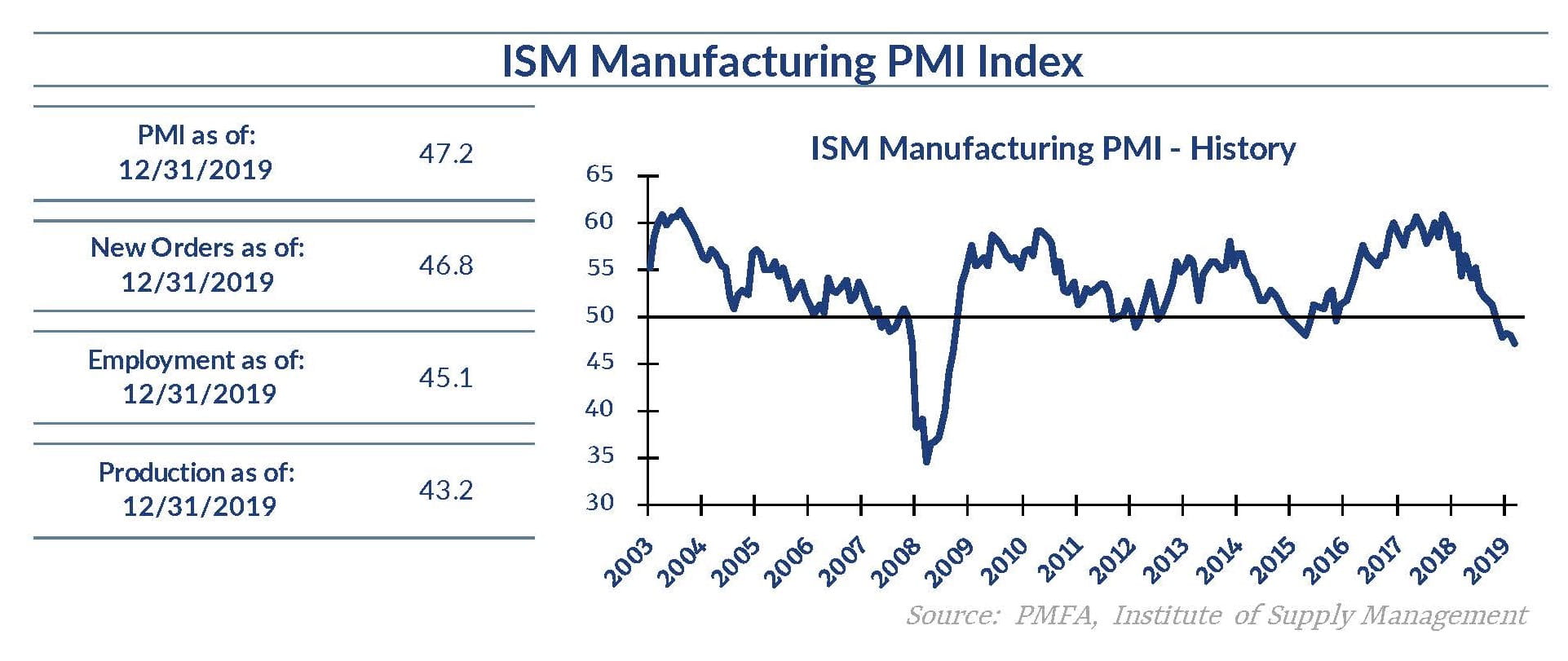 The ISM Manufacturing Index declined to 47.2 in December, slipping from 48.1 in the preceding month, while dipping to its lowest level since June 2009. Economists had expected some improvement in December, with a consensus view for a pickup to 49.0.
Factory activity has now been contracting for five months, as sales have been sluggish and the disruptive impact of tariffs have hit the manufacturing sector hard.
The New Orders Index declined to 46.8, while the Production Index fell sharply to 43.2. The slowdown in both new business and production accelerated in the past month.
The December reports caps off a year that saw a marked deterioration in manufacturing conditions not only in the U.S., but globally. The sector was expanding solidly to start the year, but slowing global growth exacerbated by the escalation in the trade conflict between the U.S. and China took a toll. By August, the industrial sector had slipped into negative territory and spent the remainder of the year contracting. There had been signs of some stabilization in the past few months, as various measures indicated that conditions may be bottoming. The renewed weakness in new orders, production, and manufacturing employment calls that into question somewhat.
More broadly, the U.S. economy appears to be positioned to muddle through a weak manufacturing environment for now. Strong labor market conditions are supporting a relatively optimistic consumer sector that appears to have both the ability to continue to spend and the confidence to do so. Even so, the longer that the manufacturing sector languishes, the greater the risk of a more pronounced spillover into the broad economy.
Meaningful progress in trade negotiations between the U.S. and China would go a long way toward raising spirits and clearing obstacles to a business sector that has put the brakes on capital investment. CEO confidence remains quite low, standing in stark contrast to resiliently upbeat consumers and small business owners.
The bottom line is that the modest deterioration in December in an already sluggish manufacturing sector is unquestionably a disappointment. Even so, activity remains well above levels typically associated with a recession.
With the Presidential election now less than a year away, the state of the economy will be a key consideration for voters, and an important factor for President Trump's re-election prospects. A tough stance on China plays well with many voters and has decent bi-partisan support in Washington. Still, it appears increasingly important that meaningful progress be made to help dissipate the cloud of uncertainty surrounding trade policy and its impact on the economy.