While political headlines can create market volatility, election years have historically been positive for stocks.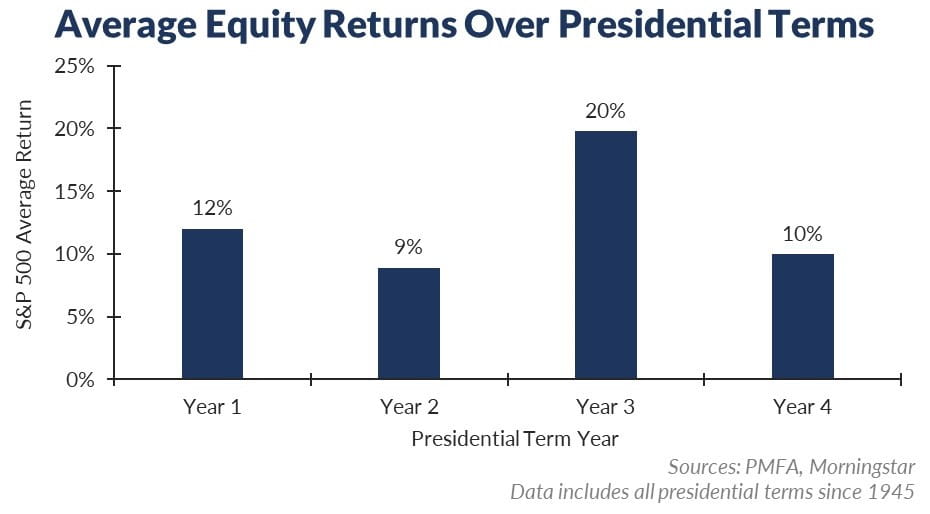 Presidential elections often create an element of uncertainty that can be concerning to investors, and this year is no exception. With
impeachment proceedings
in Washington D.C. creating additional uncertainty around the future political landscape, there are more questions than normal about events in Washington and what they mean for investors.
As shown in the chart above, presidential election years have historically been positive for the stock market, with an average return of approximately 10% over the past 75 years. This is likely due to growth-oriented economic policies implemented by incumbent presidential candidates (and elected officials more broadly) during election years, in hopes that a strong economy and rising stock market will boost their chances for reelection. This also helps to explain why year three of the election cycle typically sees the strongest equity returns. As a leading indicator, equities typically discount the likelihood of that future stimulus, providing an additional boost for the economy.
All too often, investors tend to overestimate the impact of an election on the direction of the economy or stock market. We would strongly advise against tying your investment decisions to events in Washington. Political headlines will periodically lead to some turbulence in markets over time, but history suggests that markets have typically rewarded those who have remained patient and invested.