We have only experienced two impeachments in recent history, each with a very different outcome on stocks.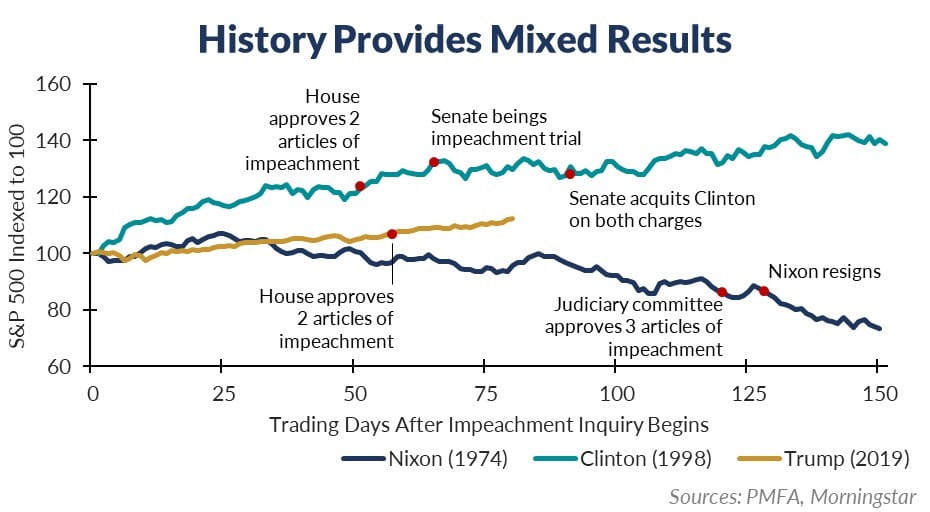 President Trump was impeached by the House of Representatives at the end of 2019 and will now face a trial in the Senate. That raises the question: Could impeachment proceedings weigh on the stock market and put a damper on the decade-long bull market? Looking back at the two contemporary precedents provides some context, but also illustrates that uncertainty around the future of the Presidency doesn't correlate strongly with stock market performance.
In the year leading up to President Nixon's impeachment inquiry, the oil crisis had pushed inflation above 11%, the jobless rate had risen, the economy was mired in a protracted recession, and the stock market had already started to sell off. The impeachment of President Clinton, on the other hand, came amid a strong economic expansion and equity bull market. Even after the impeachment proceedings began, stocks continued to rally and reached a new all-time high on Jan. 25, 1999, just weeks after the Senate trial had begun.
From a historical perspective, it appears that impeachments have had minimal direct impact on the equity market. In each prior scenario, the state of the economy had a much greater influence on market volatility and equity performance.